This week we've been chatting about eggs over at GoodCheapEats as we "build a frugal pantry." Eggs are an exceptional source of protein that can fit into any budget — especially when you buy them on sale. Watch for sales in the next few weeks. Grocery stores want your Easter holiday business, so many of them may be offering eggs as a loss leader in order to get you to choose them.
Eggs can be a delicious component of every meal of the day, whether that be in baked goods or as an "egg dish." If you missed the series and want to be inspired to use eggs, whole grains, or flour a little more, pop over and see what folks have to say about some great, inexpensive ingredients.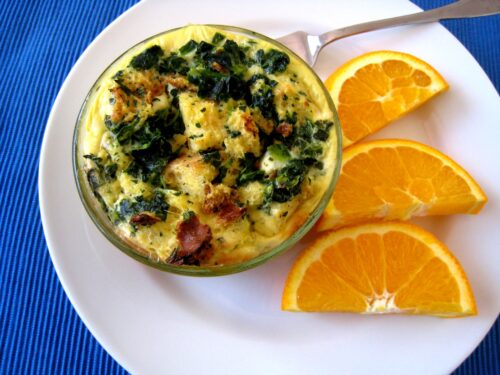 Today I'm sharing my recipe for Greek Egg Casserole. I love the combination of spinach and feta and often make Greek Eggs for breakfast. But in an effort to stay out of the kitchen, I made several of these individual egg bakes during my last freezer cooking day. I tweaked my egg bake recipe by subbing in spinach and feta cheese for the bacon and cheddar.
Greek Egg Casserole
1 cup bread cubes
1/3 cup crumbled feta
1/4 cup frozen, chopped spinach
2 eggs, beaten
1/2 cup milk
1/16 teaspoon black pepper
Grease a 2-cup baking dish. Spread bread cubes across bottom. Sprinkle cheese and spinach over the top. In small mixing bowl, combine egg, milk, and black pepper. Pour over bread and cheese mixture. Cover and refrigerate overnight. (Or cover and freeze. Thaw overnight before baking.) In the morning, preheat oven to 350F. Bake for 35 minutes or until puffy, and a tester inserted comes out clean.
** I never thawed the spinach since I knew I was going to throw it right back into the freezer. As a result, my batch may have had a little more moisture. Watch your cooking time to adjust for this if you are using fresh or thawed spinach.
And if you've got an EGG recipe to write home about, share it with us today!
Here's how to participate in Ultimate Recipe Swap:
1. Post your recipe on your blog. Please mention www.lifeasMOM.com in your post so that your readers know where all the other good recipes are hanging out. Then, come back here to add the link to your post to Mr. Linky below. (Find instructions for Mr. Linky here.)
OR
2. If you don't have a blog, simply post your recipe or tell us about it in the comments section.
3. Above all, please stick to topic. Today is eggs. So if your recipe doesn't include eggs as a major component, it will be deleted. Thanks for understanding.
Have a story to go along with your recipe? We'd love to hear it!