Many moms face the challenge of adapting their kitchen habits to accomodate food allergies or special diets within their families. It's usually a question of good health, if not life and death that is at stake. So, although it can be a huge bummer, it is an important accomodation to make.
Glutton that I am, it's been rough to adapt my own diet at different seasons. Whether it was a broken jaw in college or a possible allergy in one of my nursing babies, I've initially balked at the idea of altering my food choices. But, once I found something yummy, it didn't seem so bad. The trick is to find something yummy….
So, today we're going to help each other out. Share your yummy recipe that fits a special diet. It could be gluten, sugar, dairy, soy, meat, etc that has been ommitted. Just make that clear to us so that those looking for a certain diet, can find it easily.
Today I'm sharing a recipe I created when I abstained from gluten for awhile. It was a "happy accident" kind of recipe. And one I would gladly repeat. Definitely something yummy. The flavors of the rice pasta really come through and give the oregano, cilantro, tomato, and olive a very Mexican food flare. Black beans would make it even more like "rice and beans." But, I prefer the color that the garbanzos give it.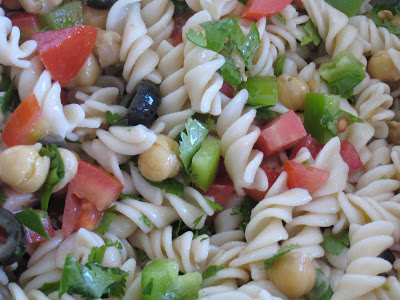 Mexican (Rice) Pasta Salad – Gluten-Free, Dairy-Free, & Meatless
1 package gluten-free, spiral rice pasta, cooking according to package directions and drained
2 tomatoes, chopped
1 cup garbanzo or black beans, drained and rinsed
1/2 cup sliced black olives
1 bell pepper, cored, seeded and diced
1/4 cup chopped fresh cilantro
1/2 cup favorite vinaigrette dressing (or combine 1/4 cup red wine vinegar, 1/4 cup oil, 1/4 teaspoon oregano, 1/4 teaspoon pepper, 1/4 teaspoon salt)
Combine all ingredients in large mixing bowl, stirring to combine. Chill until ready to serve.
Got a great recipe that will fit a special diet or accommodate a food allergy? Share it with us!