I am not Betsy Ross.
Nor am I Bakerella.
But, I really wanted to be. At least for a day.
For the last month, I've been scheming this fantastic Fourth of July cake pop that I was going to wow you with. I had such great plans. I envisioned candy coated, star-shaped cakes on a stick, bedazzling in all their red, white, and blue glory. I hunted down supplies, planning weeks in advance. I even went to five stores to find patriotic sprinkles. And, no, Michaels did not have them, not even in June. Walmart's the place if you're interested.
But, what was conceived in my mind didn't really come to fruition. The first one or two looked okay, sort of, but then a star lost his point.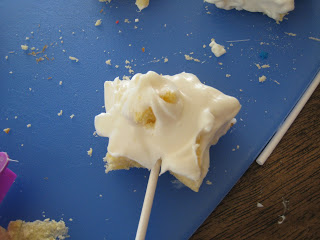 And then one of my helpers dropped this one on the table.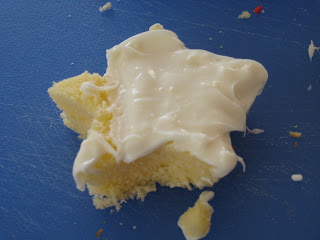 And this one fell off its stick.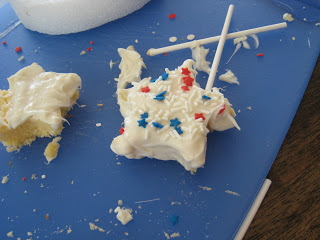 So, I abandoned the project to my children, and they had a fantastic time. I mean, I think I may get nominated for Mother of the Year.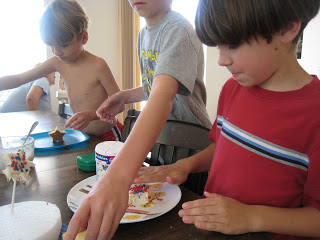 They frosted and sprinkled and indulged in sugar-induced hyperactivity to their heart's content. They really were happy, they are just serious about their work in these photos. I think we even made some memories.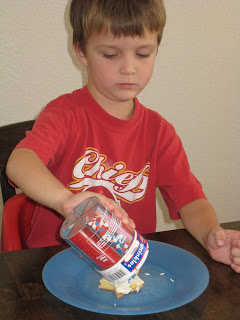 Now, that's what I call Old Glory.
Candy-Coated, Red, White, and Blue Star Cake Pops Cakes
1 family size frozen pound cake*
1 bag vanilla flavored candy melts
patriotic sprinkles
star cookie cutter
Slice frozen pound cake in horizontal thirds. Cut out small stars with cookie cutter. Save the scraps for a trifle or other snack. Melt candy melts according to package directions. Frost cake stars with melted candy coating. Sprinkle with patriotic sprinkles.
*The poundcake for this recipe was generously provided by Sara Lee. Stay tuned for a product review on my giveaway and review page.
How about you? What festive recipe or meal idea do you have for the Fourth? Share it with us!
Here's how to participate in Ultimate Recipe Swap:
1. Post your recipe on your blog. Please mention www.lifeasMOM.com in your post so that your readers know where all the other good recipes are hanging out. Then, come back here to add the link to your post to Mr. Linky below. (Find instructions for Mr. Linky here.)
OR
2. If you don't have a blog, simply post your recipe or tell us about it in the comments section.
3. Above all, please stick to topic. Today's theme is Fourth of July. So, if your recipe does not fit the theme, your link will be deleted. Thanks for understanding.
Have a story to go along with your recipe? We'd love to hear it!
If you have a topic suggestion for future swaps or would like to see the updated schedule, go here.
Looking forward to seeing what you've got cooking!