Welcome to another fun week of Ultimate Recipe Swap. Sometimes your favorite family recipes can feel like "same old, same old." I think it's refreshing to see what other families enjoy eating and be inspired to try new things.
Today's topic is Fresh Produce. I'm probably kinda boring when it comes to fresh produce. Generally our family likes our fresh produce, well, fresh. I rarely cook fruit unless it's for pie or muffins. And veggies? Well, we prefer salads.
I probably need to bust out a little. So, maybe you'll inspire me today.
One of my very favorite fruit dishes is one that I never ever had until FishBoy6 was born. And you'll probably be surprised when I tell you that something so "old school" is something that just makes me smile.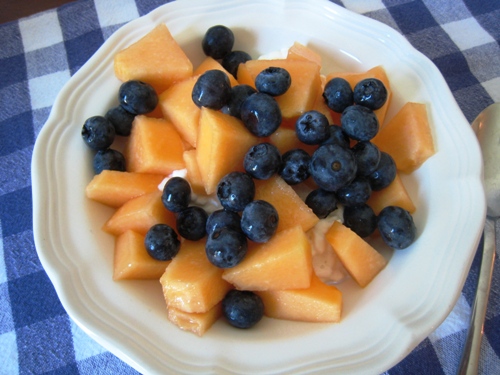 Cottage Cheese and Fruit!
I know, I know. But, I love it! I delivered my last three babies at Overland Park Regional Medical Center in Kansas. And they had the best hospital food I ever ate.
One of my favorites was the fresh fruit bowl. The babies in question were born in Spring, Summer, and Fall, and the fresh fruit bowl was always fantastic. It had cottage cheese, berries, melon, grapes, and pineapple. And it was always fresh, not slimy or old looking like you often get at restaurants. It was awesome!
So, I started making it at home with whatever fresh fruit was on sale that week. Love it!
What do YOU love to make with Fresh Produce?
1. Post your recipe on your blog. Please mention www.LifeasMOM.com in your post. Then, come back here to add your link to Mr. Linky below. (Instructions for Mr. Linky are available.)
OR
2. If you don't have a blog, simply tell us about your recipe in the comments section.