I just love the smell of food cooked outdoors. Last weekend we spent an afternoon at the beach, and the scent of charcoal fires mixing with the salty breeze and a hint of Bain de Soleil was fantastic. Now that's the smell of summer!
One of my favorite things to grill is veggies. If you've never had them, you don't know what you're missing! Vegetables cooked over the grill are soft and tender and smoky-tasting. Gotta love that!
You can do this with almost any veg. I like zucchini, yellow squash, red onion, and colored bell peppers. Simply wash your veggies and trim accordingly:
squash: cut off ends and slice thickly, lengthwise, about 1/4 inch
onion: peel, remove ends and slice thickly in rings, about 1/4-1/2 inch (if your grill has big slots, you can thread a skewer through the different rings so the small pieces don't fall through the slats.)
peppers: core and seed and slice in half or quarters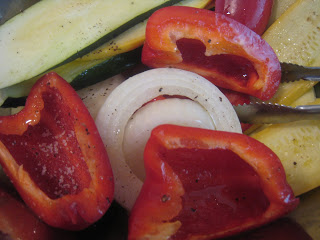 Drizzle the vegetables with olive oil and sprinkle generously with kosher salt and freshly ground pepper. Cook over a hot grill, turning frequently, until tender and cooked through.
Serve as a side dish with grilled meats. Chop up leftovers for salads or pizza toppings.
How about you? What do you like to cook on the grill? Share it with us today.
Here's how to participate in Ultimate Recipe Swap:
1. Post your recipe on your blog. Please mention www.lifeasMOM.com in your post so that your readers know where all the other good recipes are hanging out. Then, come back here to add the link to your post to Mr. Linky below. (Find instructions for Mr. Linky here.)
OR
2. If you don't have a blog, simply post your recipe or tell us about it in the comments section.
3. Above all, please stick to topic. Today is Grilled Foods. So, if your recipe is not cooked on the grill, your link will be deleted. Thanks for understanding.
Have a story to go along with your recipe? We'd love to hear it!
If you have a topic suggestion for future swaps, go here.
Looking forward to seeing what you have to share!
Mr. Linky changed widgets on me. Click the box below to view the links and add your own.