GIVEAWAY NOW CLOSED – Congrats to mystrix@ !
Today's edition of URS is also the final episode of the Holiday Food Fest that I've been participating in with some great bloggers. It's been great to get a glimpse into other kitchens, particularly those that are sugar and/or gluten-free. Wow! There's a whole world of eating out there yet to be explored. Last week's giveaway winner of the Tropical Traditions Coconut Oil is Jessica Meyer. Jessica blogs at ATX Gluten Free.
I hope that you've got a great dessert recipe to share with us. I do. This is hands-down one of my kids' most favorite holiday activity ever, ever, ever. They get giddy just over the idea of it. I wish that I could say I loved it as much. But, the mess-factor involved in cutting out cookies, frosting them, and spreading sprinkles all over my kitchen, does make it a little lower on my personal list of Favorite Holiday Activities. But, as far as family fun goes, it can't be beat. I mean, look at the expressions on these faces: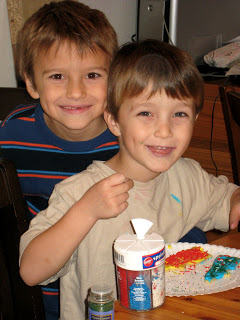 Years ago my mom purchased us a nativity-themed set of cookie cutters. The ensemble includes Mary, Joseph, Jesus, a donkey, a sheep, a camel, wisemen and a star. Using these cutters is a delicious way for our family to keep Christ in Christmas.
In the past I've used my mom's gingerbread recipe. But, quite honestly, I don't really like the flavor of ginger cookies. So this year and the last year or so, I wisened up and I use this yummy Butter Cookie recipe from Susan Branch. They are super yummy as evidenced by my quality control officer.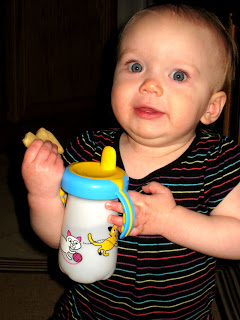 And the sprinkles aren't too bad, either.
What's your favorite holiday dessert? Share it with us! Leave your permalink below or leave a comment in the comments section.
Everyone who participates today will be entered for a chance to win this PAISLEY STAR STRIPE apron from D-Lux 57. It's a 2-pocket flounce mixed print, fully lined in a matching keepsake envelope apron.
(By the way, have you see these aprons?! Oh my! I want one! Pop over and check out the selection. Until January 15, you can get a 10% discount and free shipping when you use the code lifeasmom)
Contest will be open until Sunday night at 8 pm, PST. Winner will be chosen at random. Please make sure I have a way to contact you if you win.
In the meantime, I can't wait to see what yummy desserts you create at your house!