Even though my kids spend the bulk of their days at home, I still pack a lunchbox every day — my husband's. When we first married, we didn't bat an eye at eating out almost every day. It was something we looked forward to.
Once we bought our first house, however, that habit had to change. We had some fits and starts in the beginning. I regularly packed meatloaf sandwiches for about a year before I clued in that I regularly threw away partially eaten meatloaf sandwiches.
(My husband doesn't like meatloaf sandwiches. But, he was too kind to say anything about it.)
Eleven years later we've worked out the kinks in the system. I've learned what he likes and what he doesn't. I usually prepare his lunch the night before, stashing it on the top shelf of the refrigerator. He knows that all the bags and boxes congregated there are his for the taking. He has a medium sized cooler that he packs it in along with some blue ice. In the old days (like last year) I always prepared a cold lunch. But, now that he works at a regular location with an office, fridge, and microwave, I often send leftovers. Except meatloaf.
Since FishPapa leaves quite early in the morning, I include enough food to serve as breakfast, break, and lunch.
A lunch box in the FishFam might include: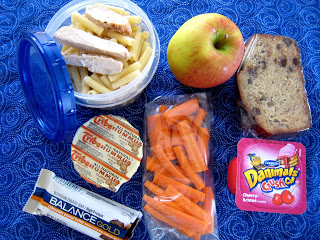 pasta salad with chicken and garbanzo beans
fruit
dip and veggies, like carrot sticks, cucumber slices, red bell pepper strips
yogurt
banana bread or cookies
granola or energy bar
What do you pack in the lunchboxes at your house? Share your ideas with us so that we can each be inspired and refreshed when it comes to acting as the Lunch Lady.
Feel free to share a recipe, serving suggestion, or fun idea for packing a lunch.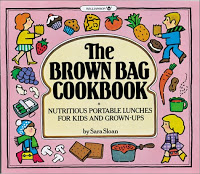 New at URS is a weekly giveaway! A different prize every week.
Everyone who participates in this week's URS will be entered in a drawing to win The Brown Bag Cookbook: Nutritious Portable Lunches for Kids and Grown-Ups. Mr. Linky and the comments section will be open until Sunday night, 8 pm PST, at which time I'll close it down and pick a winner.
Guidelines to Ultimate Recipe Swap are here. Please follow them or you will be chopped.
I can't wait to see what kind of love you pack in a lunchbox!
Next week on Ultimate Recipe Swap: Better-for-You Snacks!
Think Tailgate Party foods that aren't gonna kill you if you eat them. I have a super cool prize lined up for next week, awarded to readers' choice, based on taste and healthfulness.