I don't have enough time, arms, or sleep. Such is the life of a mother. So, in order to make my "life as MOM" as pleasant as possible, I've been trying to develop ways to save time.
More than two arms would look weird, and sleep will come eventually.
Over the weekend I put together a month-long meal plan. While this may take a little spontanaeity out of my life, it may well, take a little spontanaeity out of my life. As a mother of SIX KIDS, I have that in abundance. Who are we kidding?
This week I've also been working to cook a bunch of meals ahead of time. While I didn't prepare 30 meals, I did fill in a lot of the holes in my meal plan so that dinnertime prep should go quicker in the weeks to come.
One of the things that I like to have on hand are custom-made mixes. I've been doing this for 101 years and it continues to be a boon to me on a busy morning when kids are crying for food, but the coffee hasn't kicked in yet. Not only is it a quick help in the morning, but since you're making your own, you can dude them up with fancy or healthy ingredients that your family likes.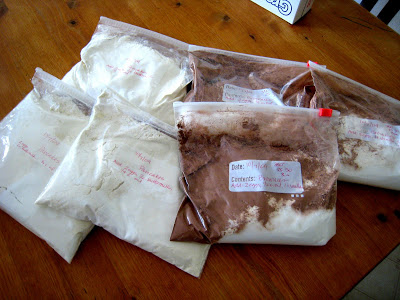 Make Your Own Mixes
You're going to laugh when you hear how terribly easy this is. Stop paying for boxed mixes! (Confession: I do keep cake mixes on hand, but nothing else.)
Line up quart size ziptop bags.
Mark each with the date, the mix name, wet ingredients to be added and baking instructions.
Fill the bags with the premeasured, dry ingredients called for in the recipe.
Store in the pantry, or for longer storage, in the freezer.
I regularly do this for brownies, pancakes, waffles, scones, muffins, and quick breads. It's so nice to just empty the bag in a bowl, add "the wet team" and bake. It also makes it a little easier to let kids help me bake.
Got a great make-ahead or freezer-friendly recipe? Share it with us!
1. Post your recipe on your blog. Please mention www.LifeasMOM.com in your post. Then, come back here to add your link to Mr. Linky below. (Find instructions for Mr. Linky here.)
OR
2. If you don't have a blog, simply tell us about your recipe in the comments section.
Go here for details on this week's giveaway.
Powered by… Mister Linky's Magical Widgets.