Wintertime calls for hot, filling meals that warm you up and keep you energized. And it seems that family life is super busy during winter as well. You know what that means. The family cook needs some quick, cozy menu ideas.
At our house it might be beans and rice or a bowl of chili. But, one of my go-to meals is grilled cheese and soup. Not all my kids love grilled cheese sandwiches, but that's okay. He makes himself toast. Sometimes I make soup from scratch; other times I pop open a can. Either way, we enjoy the meal.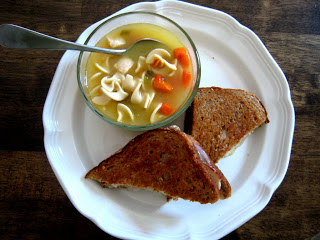 Most of the kids prefer your standard cheddar cheese in their sandwich. But, recently, I thought I'd bust out and try something different. How does Grilled Turkey and Brie on Whole Grain Bread sound? It's still a grilled cheese sandwich, just notched up a bit. It was very tasty. Unbelievably, the kid who doesn't love standard grilled cheese, really liked this one.
Grilled Turkey and Brie on Whole Grain Bread
for each sandwich you'll need:
2 slices bread
softened butter
1 slice roasted turkey
sliced Brie to cover the bread
thinly sliced red onion (optional)
Heat fry pan or griddle. Butter one side of each piece of bread. (When assembling, I stack two pieces, buttered sides together on a work surface and build my sandwiches. Then when I place them on the griddle, I put the bottom slice on top, buttered side up.) On the plain side of one piece of bread, stack turkey, red onion, and Brie slices. Place sandwich on hot griddle and cook until cheese is melted, turkey is hot, and bread is toasted. Flip as needed. Serve with a bowl of soup.
Now, it's your turn. What's a Quick Fix Meal that you serve during Winter?
Share it in the comments or post your link below. Everyone who participates will be entered in my Campbells/V-8 Fusion Giveaway.
Powered by… Mister Linky's Magical Widgets.
Next week on URS: Holiday Desserts