Today FishPapa and I are celebrating our fifteenth wedding anniversary. It's cliche, but true – the time has just flown by!
We met when I was a sophomore in college. I was preparing for a year abroad and then I met the guy of my dreams. As the Lord would have it, we not only still liked each other when I came back, we loved each other. We married the following May, and I got to spend two consecutive birthdays in France as my 22nd birthday fell in the midst of our honeymoon there. Oh la la!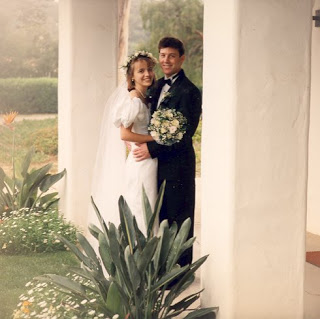 We've been through a lot in the past fifteen years: six children, three miscarriages, two cross-country moves, the loss of a parent, self-employment, unemployment, richer and poorer. And I can honestly say, my sweet husband improves with age. He is golden, that is for sure.
One of the things that we like to do is enjoy good food together. (Ain't that the truth!) Remember how we used to spend as much on feeding the two of us as we do now feeding seven? Well, those frivolous days are gone, but we still like to eat well.
For at-home dates and special occasions, I like to prepare dishes that are well placed in our memories of our life together. Our Valentine's supper is the same dish I made on our first date: Chicken Parmesan. And for our anniversary? Well, in recent years, I've started to recreate our wedding dinner.
Ours was a pretty frugal wedding by the standards set for Santa Barbara, circa 1994. (Come back tomorrow for Frugal Friday for the scoop on that.) But, it was the best food and the best cake I've ever had at a wedding. Ever.
We held a casual, outdoor reception, something very un-fussy and relaxing. A California BBQ was the bill of fare, so we knew it would be good. The guests were very pleased. Just take a look at our groomsman's face! (And how serious I am about filling my plate!)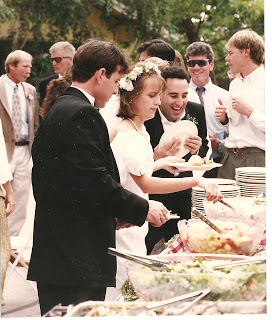 So, that's what we're having for dinner tonight! It's only the second year doing this, but I think it's a great way to walk down memory lane, to include the whole family in our celebration, and to teach our children about the romance that began our family. We'll look through wedding pictures, too, and eat something chocolately-raspberry and cream cheesy. (There's no way I could recreate our cake.)
Our Menu
Grilled tri-tip and chicken
Potato Salad
Fruit Salad
Caesar Salad
Pasta Salad
Rolls
One of the items on the menu that my husband adores is Potato Salad. This may not fall under your category of Romantic Meals. But, it does in our book. It's delicious, filling, inexpensive, and easy to pack on a picnic. Plus, it was part of our wedding dinner.
Not to mention that he loves it so much, he thinks he could live on it. You know the way to a man's heart? This recipe.
Potato Salad
9 potatoes, peeled and choppped into 1-inch chunks
5 hardboiled eggs, peeled and mashed with a potato masher
2 ribs celery, chopped
2 green onions, chopped
2 Tablespoons red wine vinegar
mayonnaise, enough to bind ingredients
1 Tablespoon brown mustard
large pinch dried dill weed
salt and pepper to taste
Place potato chunks in a large pot of salted water. Bring to a boil and simmer until potatoes are tender. Drain well. In large mixing bowl, combine warm potatoes, eggs, celery, onions, and vinegar. Toss to combine. Add mustard and enough mayo to bind the ingredients well. Sprinkle with dill weed, salt and pepper. Chill well. Before serving, taste and adjust seasonings and add more mayo if necessary.
What would you make for a romantic meal with your sweetie? Share your recipe or menu ideas with us!
Here's how to participate in Ultimate Recipe Swap:
1. Post your recipe on your blog. Please mention www.lifeasMOM.com in your post so that your readers know where all the other good recipes are hanging out. Then, come back here to add the link to your post to Mr. Linky below. (Find instructions for Mr. Linky here.)
OR
2. If you don't have a blog, simply post your recipe or tell us about it in the comments section.
3. Above all, please stick to topic. Today is Romantic Meal Ideas. So, I guess anything goes if you've got the justification. But, if you're bringing liver and onions to the table, you better have a very good story.
Have a story to go along with your recipe? We'd love to hear it!
If you have a topic suggestion for future swaps, go here.
Looking forward to seeing what you have to share!
Mr. Linky has been a little finicky lately, so if it's not here, leave your link in the comments section. Thanks for your patience.