Summer is the perfect occasion for salads. It's cool and crisp. It makes the most of fresh produce which are in abundance during this season. And a salad can be prepared ahead of time to keep the cook out of the kitchen on a hot summer day.
For some bizarre reason, I have always been infatuated with salads. High school friends, college roommates, and husband alike have all raised an eyebrow at my frequent indulgence in what one roomie called, "a plate of grass with some stuff on top."
Over the years a large meal-size salad has become my regular standby lunch. I don't have an actual "recipe" in the sense that ingredients are measured. It's more of a little of this, a little of that. Since not all the kids like all my ingredients, I often serve them up buffet style, so everyone can choose what he likes.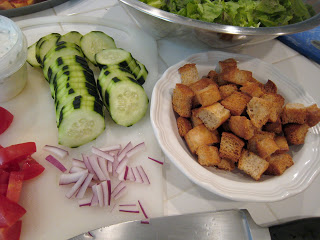 But, there is a basic formula that I follow for a great lunch:
1-2 handfuls of lettuce or baby greens
other veggies, such as sliced cucumbers, shredded carrot, diced onion, chopped tomato, black olives
cheese: grated or cubed cheddar or pepperjack, grated parmesan, crumbled feta, or crumbled bleu cheese
protein like garbanzo beans, hard-boiled eggs, or chopped meat
dressing such as ranch, homemade vinaigrette, or my new experiment, Garlic-Cilantro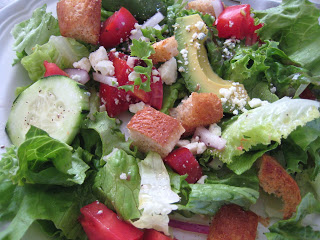 Last week I enjoyed avocado, bleu cheese, chopped tomatoes, and sliced cucumber on a bed of red and green leaf lettuces. Yummy!
So, what's a favorite salad at your house?
Here's how to participate in Ultimate Recipe Swap:
1. Post your recipe on your blog. Please mention www.lifeasMOM.com in your post so that your readers know where all the other good recipes are hanging out. Then, come back here to add the link to your post to Mr. Linky below. (Find instructions for Mr. Linky here.)
OR
2. If you don't have a blog, simply post your recipe or tell us about it in the comments section.
3. Above all, please stick to topic. Today's theme is Salads. So, if your recipe does not fit the theme, your link will be deleted. Thanks for understanding.
Have a story to go along with your recipe? We'd love to hear it!
If you have a topic suggestion for future swaps or would like to see the updated schedule, go here.
Looking forward to seeing what you've got cooking!