T Minus 7 Days and Counting….
Are you ready for Turkey Day? Thankfully, I will not be cooking this year — unless I want to. We're heading to my in-laws where we usually get spoiled rotten. So, I'm looking forward to less cooking than on a normal Thanksgiving.
However, I have made many a feast in the past, with memories of the scars, the grumpy mood, and the flying turkey meat to prove it. Yes, as my siblings can testify, I can get a little emo at the holidays. Good thing I'm off duty this year.
As such, I wanted to let you know that next Thursday, I will be available for counseling. Sort of. I figure not many people will want to or be able to post recipes next week, but we're still going to have URS. It's the "Give-Me-Some-Last-Minute-Help-and-Inspiration-on-Thanksgiving" URS. Share your joys, concerns, and questions, starting early on Wednesday afternoon. When I'm not frantically packing six kids in the car or driving out of town, I'll try to answer your Thanksgiving questions — or my readers will. If you've got a few minutes next Wednesday and Thursday, pop your head in, ask a question, answer a question, inspire us with what you're doing.
In the meantime, I suggest you do as much planning as you can ahead of time:
And make these little turkeys with your little turkeys:
You'll need 1 cinnamon roll and 1 1/2 large biscuits for each kid. I use the refrigerated kind 'cause it's easier with lots of little helpers. Cut the 1/2 biscuit in half again. 1/4 is for the turkey face. Cut the other 1/4 into legs. Cut the full biscuit into feathers and let your child dip the feathers into colored sugar or sprinkles. Poke in chocolate chip or raisin eyes. (I don't recommend red hots or M&Ms because they bleed and make the turkey look like he's crying.) Bake according to package directions.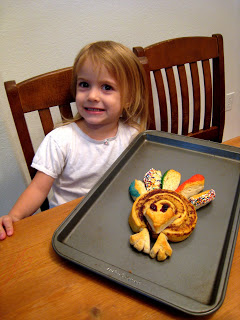 Enjoy the look on your child's smiling face!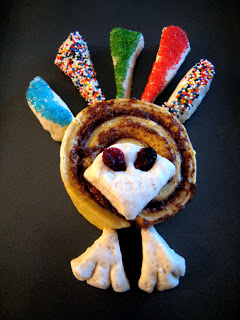 Got a great Thanksgiving Recipe? Share it with us!
1. Post your recipe on your blog. Please mention www.LifeasMOM.com in your post. Then, come back here to add your link to Mr. Linky below. (Find instructions for Mr. Linky here.) )
OR
2. If you don't have a blog, simply tell us about your recipe in the comments section.