Picnics are fun affairs. I love to pack up a lunch and eat outdoors, and so do my children. One of my favorites is the impromptu affair with In-N-Out Burger.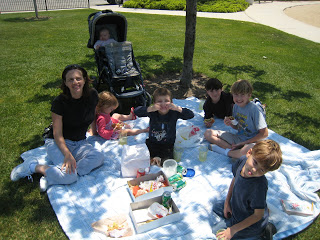 But, if I have time to plan, then here's what we might pack – my recipe for A Great Picnic:
tablecloth (and tablecloth weights or clips if the wind is up)
paper plates, cups and napkins
plastic flatware
bug screens to cover the food
booster seat for the baby
pitcher of Old Fashioned Lemonade
Guacamole, Salsa, and Chips
FishPapa's Favorite Italian Sandwich
Potato Salad, Pasta Salad, Bean and Rice Salad
Gramma John's Crispy Crunchy Chocolate Chip Cookies
How about you? What's your favorite picnic food? Share it with us today.
Here's how to participate in Ultimate Recipe Swap:
1. Post your recipe on your blog. Please mention www.lifeasMOM.com in your post so that your readers know where all the other good recipes are hanging out. Then, come back here to add the link to your post to Mr. Linky below. (Find instructions for Mr. Linky here.)
OR
2. If you don't have a blog, simply post your recipe or tell us about it in the comments section.
3. Above all, please stick to topic. Today is Picnic Fare. So, if your recipe is not suitable for packing and eating in the great outdoors, your link will be deleted. Thanks for understanding.
Have a story to go along with your recipe? We'd love to hear it!
If you have a topic suggestion for future swaps or would like to see the updated schedule, go here.
Looking forward to seeing what you have to share!
Mr. Linky changed widgets on me. Click the box below to view the links and add your own. Make sure you turn off your pop-up blocker before clicking.