I have fond memories of Valentine's Day as a child. My mother, whose "love language" is most definitely gifts and words of encouragement, always had a little something special for us to open. Recently, I came across a box full of gold heart charms, a collection that she began for me many years ago. What a wonderful heritage she passed on to me.
Since I'm too stingy  frugal for gifts to be my "love language," I choose to show my affection through food. So, when I saw these Conversation Heart Brownies from Duncan Hines, I was inspired to make heart-shaped brownies for my peeps.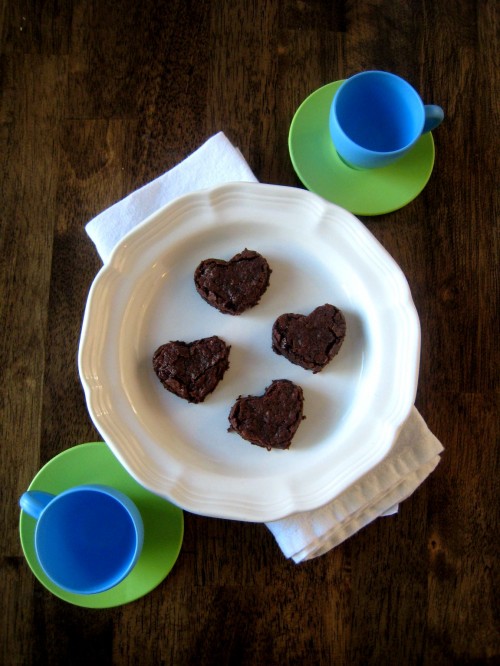 With FishBoy5's help, I whipped up a batch of Cocoa Brownies and baked them in a parchment-lined, 9×13 pan, instead of the regular 8-inch square. I baked them for 20 minutes instead of the prescribed 25-30. Using a larger pan made the brownies thinner and gave me a larger surface area to work with for cutting. Baking them on parchment paper allowed me to remove the brownies from the pan more easily and to cool them on a rack quickly. Once they cooled, I simply cut them out with a cookie cutter. And there were quite a few trimmings to, um, dispose of. No problem there!
Brownies are simple enough to make, but putting a little more effort into their shape made them just a little cuter and certainly fanciful. Easy peasy. Gild the lily by sprinkling with powdered sugar or frosting them the way Duncan Hines does.
What do you do to make Valentine's Day a little sweeter?
Share your recipe in the comments or by linking up below. Please submit only Valentine's-themed recipes and ideas.
Five participants will each win a free product coupon from Duncan Hines.
Giveaway is open until Sunday night at 8 pm, PST. Winners to be chosen at random. Please leave contact info in your comment so I can find you if you win. This giveaway is now closed.
Powered by… Mister Linky's Magical Widgets.