There are times in life when you come across an idea and you say to yourself, "Why haven't I been doing this all along?" They are usually simple ideas that make your life even simpler. And that alone makes them brilliant.
Those who know me know how much I love salad, especially for lunch. I feel so much better filling up on veggies and protein midday. But, truth be told, I can get kinda lazy. It takes awhile to prep my own lunch in addition to the kids' meal. I'm sure that I spend a good half hour getting my plate ready.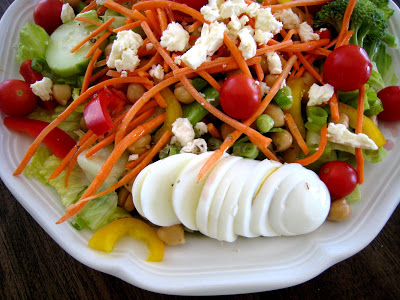 My friend Sheila told me years ago that she filled a divided Tupperware tray with salad fixings, but I guess it went in one ear and out the other. Reading Amy's post this morning was a great reminder of how easy it is to make a real "salad bar" to slide in and out of the fridge. Amy was able to use her crisper drawer, but I just grabbed a large rimmed cookie sheet and spent about half an hour, chopping, slicing, and dicing and assembling all the different toppings I enjoy on a salad. I don't know how long it will last, but I have a feeling it will make mealtime a lot easier.
Finding great make-ahead meal ideas is a key to saving your time and increasing your home comforts. What recipes do you make ahead?
Share them with us! Leave your link in Mr Linky or in the comments. Guidelines are here. Please stick to topic — or you will chopped.
Next week on URS: Share your favorite recipe ever! (And don't forget to vote in the URS poll at the sidebar.)