Beef is on the menu today on URS. There are so many wonderful things about beef, namely Tri-Tip, Prime Rib, and Filet Mignon. Those would definitely be my favorites. But, those aren't always the best for the budget. Since I know so many of us are pressed for either time or cash — or both, I thought I would share a guest post from Liz at Hoosier Homemade. Not only will her tips and tricks save you time to do other things than stand at a hot stove, but they will also save you money if you keep your eye open for good sales on ground beef or turkey and then stock up! When someone asks, "Where's the beef?" you'll be able say, "It's cooked and waiting — in the freezer."
Here's Liz:
Ground Beef ~ Buying in Bulk
Buying ground beef and other meat in bulk is not only a great savings, it's a time saver. Recently I bought a large package of ground beef at Aldi's for $7.06 for 5.06 pounds, that's $1.40 per pound. I cooked it and drained the grease into a measuring cup.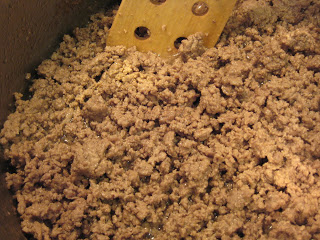 Before putting the ground beef in bags for the freezer, it's best to spread it out on a cookie sheet, to prevent clumping. Now, you can just leave it on the counter to cool, or you can quick freeze it on the cookie sheet and then place it in the bags after it's frozen. You can easily divide it into bags and freeze it.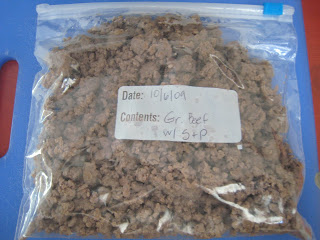 Or you can mix up some Taco Meat like I did recently. I knew I had a couple meals on the schedule to use Taco Meat, so I just mixed it up and let it simmer in the crockpot with the meat.
Seasoned Taco Meat
1 can tomato sauce
1 can tomato paste
a small amount in my hand of
cumin
oregano
parsley flakes
Pampered Chef Southwestern Seasoning
chili powder
garlic salt
1 cup of water
To save even more time, you can freeze the Taco Meat for later use.
— Liz is a SAHM to 3 boys, 18, 15 and 12. She blogs over at Hoosier Homemade about homemaking, including cooking, baking, frugal living, and decorating.
Got a great beef recipe to share with us? Link up below with the permalink to your post or tell us about it in the comments section. Please make sure to link back to www.lifeasmom.com in your post so your readers know where the meat-eating party is. Everyone who participates today is automatically entered in this giveaway. But, there are ways to get other chances to win!
Next week: Bring your favorite baking recipe!