It's hard to limit myself to one favorite recipe. There are a myriad of them stored in my cookbook cupboard, in the archives here, and on my food blog.
FishBoy12 likes to pose the question, "What would you most like to eat right now?" Ah, a man after my own heart! And dependent on what he's just seen, heard, or smelled, his answer changes with the wind. The other night when we were watching Bobby Flay's Throwdown, potstickers was the definitive answer. But, he might say Chocolate Cheesecake or Cheesy Potatoes or TriTip or Lasagna, depending on the moment.
As would I.
So, if I had to narrow it down to a favorite, it would be tough. So, today, I'm going to stick with my favorite salad recipe ever. Well, sort of. Because I really like this one and this one, too.
But, this recipe is easy, versatile, and a veritable "party in your mouth." You can mix and match endless combinations. You can make it different every single time. Or not. Add these items to your salad bar, and your mouth can rock out every day of the week.
And, if you make it on a paper plate, well, you can avoid any dishes, too. (Just keeping it real, folks.)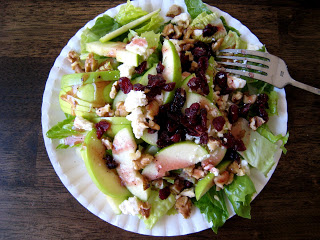 Greens with Fruit, Nuts, and Funky Cheese
(Yes, that's really what I'm calling it.)
Greens: spinach, romaine, butter lettuce, Belgian endive, baby greens
Fruit: dried cranberries or apricots, sliced apple or pear, grapes, mandarin oranges, grapefruit sections, raspberries
Nuts, preferably toasted: almonds, walnuts, pecans, spiced mixed nuts, or even soynuts
Funky Cheese, usually some kind that crumbles: goat, bleu, gorgonzola, feta, but you could use fresh parmesan if you're not so bold
Your Favorite Vinaigrette
Layer in combinations that sound good to you and enjoy!
What's YOUR favorite recipe? At least today. Share it with us!
Guidelines are here. Please follow them or you will be chopped.
***Everyone who participates in this week's URS will be entered for a chance to win the cookbook, Salads by Jane Price. Looks totally yummy!

Powered by… Mister Linky's Magical Widgets.