Unexpected Blessings
We are a participant in the Amazon Services LLC Associates Program, an affiliate advertising program designed to provide a means for us to earn fees by linking to Amazon.com and affiliated sites. We participate in other affiliate programs as well. For more details, please see our disclosure policy.
Over the years life has taken some unexpected twists and turns. And while the journey has been bumpy at times, there have been some unexpected blessings at the end of every twist, many of which have been chronicled here in this itty bitty corner of the web.
Care to walk with me down memory lane?
Climbing Out of the Hole
I never thought I would find myself "in the hole." But, I did. About $16,000 deep, plus fees.
Three years ago, we were in the throes of fighting our debt. You all were such an encouragement to me in that journey. Thank you! Today we are debt free. We couldn't have done it without God's grace and the encouragement of friends.
We haven't "arrived" in terms of finances. But, then again, we don't have any debts, either. So, there is much for me to be grateful for.
Six Kids?!
I never thought I would have six children. In fact, there was a time, when it looked like we really would only have one. And though he is a handsome, helpful one, we are so glad that he has brothers and sisters to walk through life with.
When this blog was born, I was pregnant with our sixth baby. And, yes, I think I've met my match. Thank you for your prayers and suggestions over the years. FishBaby is now approaching 3 — and what a joy she is!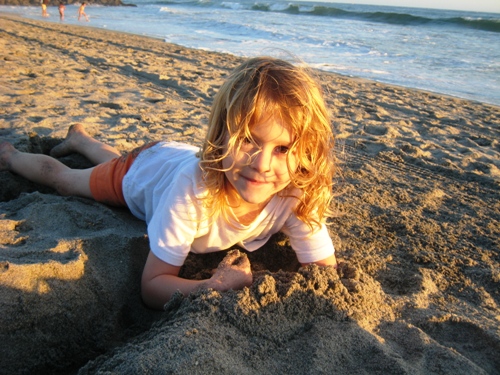 Back in Cali
I never thought we'd get to move back home, but by God's grace, FishPapa got a great job in Southern California, enabling us to move back to our home state. While there were many benefits to living in Kansas, I've found that there is no place like home.
When I hit "publish" on that first post, I was at a Panera in Overland Park, KS. Today I have the privilege of writing from (mostly) sunny California. And you all read along as we decided to take a big leap in moving cross-country and changing our lives just as the market was starting to plummet. We love living in San Diego and have fallen in love with "America's Finest City."
Writing a Cookbook
I never thought I would get to write a book, though it has been a lifelong dream. And yet, here I am crafting a new volume in a fantastic series of cookbooks.
When I first shared about freezer cooking here, I never dreamed it would someday lead to such a fun adventure. Thanks for walking with me. Keep praying for me in the coming weeks. Deadline day approaches!
Teaching High School – again
I never thought I would be a high school teacher again when I "retired early" upon the birth of my first child. That first child is now 14 and starting high school coursework in a few months. And as his primary teacher, I have the privilege of teaching him high school — from home. What a joy it's been to teach my children!
Thanks for walking this path with me! If you're just tuning in, welcome! I can't wait to see where we go in the coming months and years.
What's a unexpected blessing that you've received?