Looking for the Ultimate Carrot Cake? This be it! Soft and tender cake is topped with light and fluffy cream cheese and sprinkled with chopped nuts for a super delicious treat.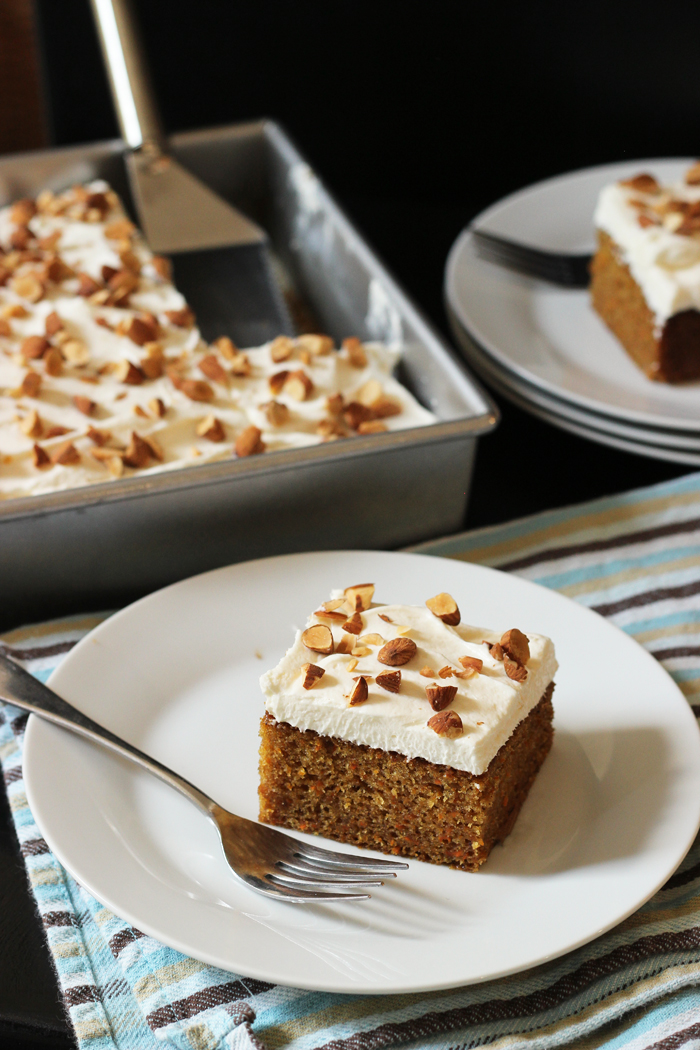 I must admit that when I find a recipe I like, well, it's a keeper. It eventually finds a place in our family traditions, and I'm hard pressed to move it or try something new.
For instance, every Thanksgiving and Christmas I make Pretzel Berry Dessert. Every year. And only at the holidays. We don't usually eat it any other time. But, when we do? We scarf down the pan in no time at all.
That's one of the wonderful things about recipe traditions. If a certain dish belongs to a specific holiday, it's okay to go whole hog on it because, after all, it's only once a year.
It's the same for us at Easter. My Easter dessert is one that I rarely make any other time of the year. Not because we don't like it. Au contraire! We love it. But, it just has a place of honor on Easter Sunday. It is The Best Carrot Cake Ever.
Over the years, how I decorate the Ultimate Carrot Cake ever has evolved. We turn the cake into an Empty Tomb, complete with Playmobil action figures to celebrate the Resurrection.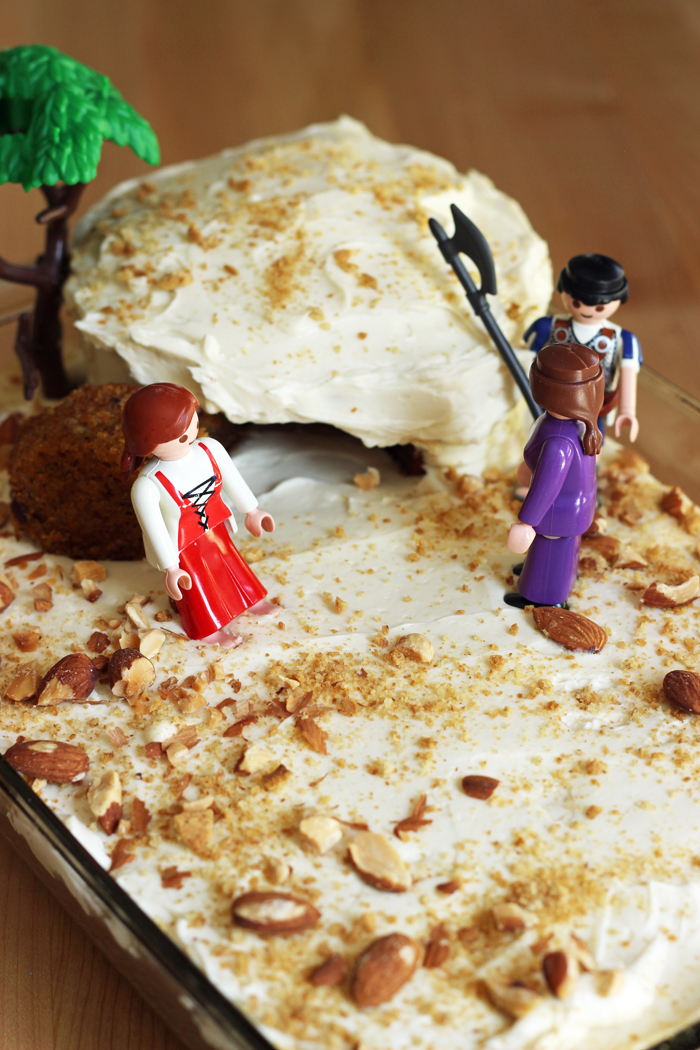 The Carrot Cake itself is moist and luscious. The original inspiration comes from this Fine Cooking version, but I've tweaked it over the years, changing the oils, eliminating currants, and omitting nuts from the cake itself. We now use almonds instead of walnuts on top of the cake, to accommodate a walnut allergy.
While I initially loved the low-sweet factor of the original cream cheese frosting, my peeps and I currently favor one with a little more powdered sugar and a lot of whipping to make it light and fluffy.
This is the version that fits our family now, almost 15 years after I first stumbled on the mother recipe, and so we've made it our own. I hope you'll love it so much that you'll make it yours as well.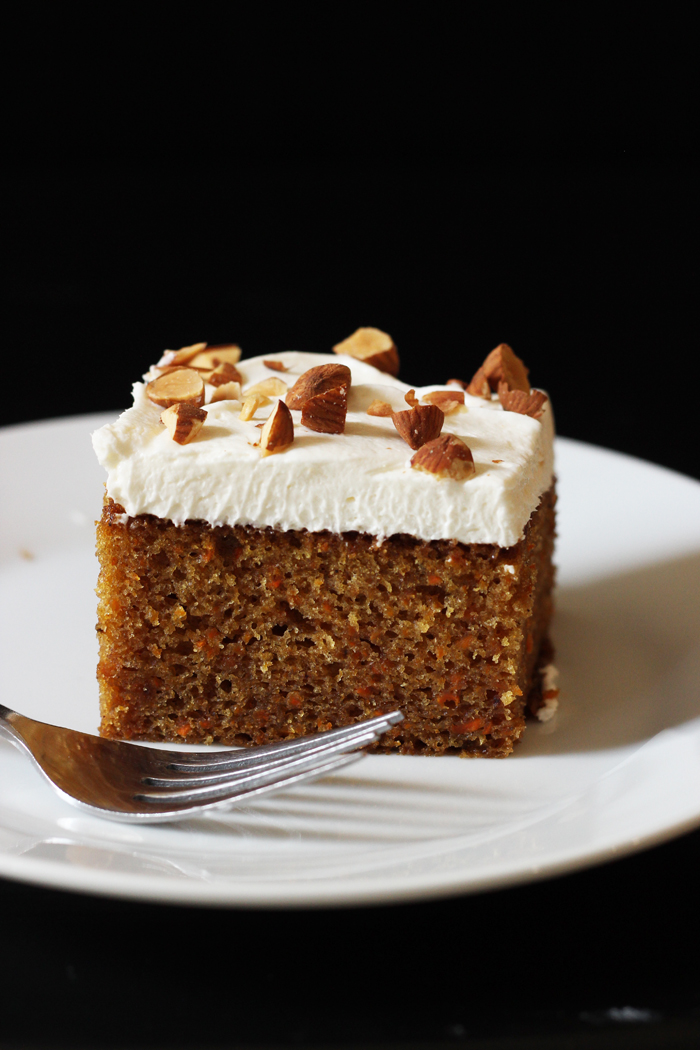 Kitchen tools I recommend:
This post may contain affiliate links. When you make a purchase through those links, I am paid a small amount in advertising fees. Thanks for your support. I really appreciate it.
Ultimate Carrot Cake
Looking for the Ultimate Carrot Cake? This be it! Soft and tender cake is topped with light and fluffy cream cheese and sprinkled with chopped nuts for a super delicious treat.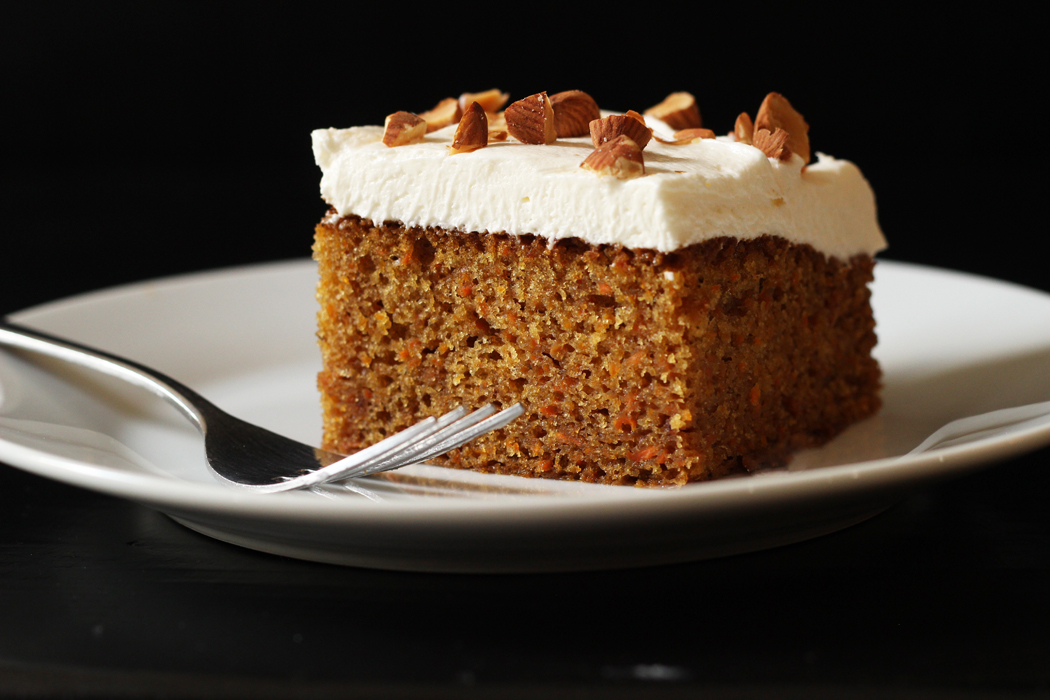 Preparation Time: 15 minutes
Cook time: 50 minutes
Total time: 1 hour 5 minutes
8 to 12 servings
Ingredients:
1 pound carrots, peeled and cut into 1-inch pieces or 1 pound baby carrots

2 1/4 cups flour

2 teaspoons baking soda

1 teaspoon salt

1 teaspoon ground cinnamon

1/4 teaspoon ground nutmeg

1/4 teaspoon ground ginger

1/4 teaspoon ground cloves

4 large eggs

1 1/2 cups sugar

1/2 cup packed dark brown sugar

1 cup vegetable oil

one batch of Fluffy Cream Cheese Frosting

1/2 cup chopped nuts
Instructions:

Preheat the oven to 350°F. Grease a 9×13-inch cake pan with non-stick cooking spray.
In a food processor fitted with a metal blade, pulse the carrots very finely. Transfer to a small bowl and rinse the food processor bowl. You'll use it again.
In a large mixing bowl, whisk together the flour, baking soda, salt, and spices.
In the food processor, mix the eggs and sugars until blended. With the machine running, slowly add the oil in a steady stream until well combined. Add this mixture to the flour mixture. Stir gently to combine. Fold in the carrots; stir to combine.
Pour the batter into the prepared pan. Bake until a tester comes out clean, about 50 minutes. Let cool on a rack before frosting.
Once the cake is completely cool, frost the top with the cream cheese frosting and sprinkle the nuts on top of the cake. Refrigerate until ready to serve.