Holiday dinners are such a fun tradition in the life of our family. My own mother made a big to-do out of Thanksgiving, Christmas, and Easter. While we didn't have much extended family who lived nearby, the second cousins once removed and all their kin that did were always included in the festivities. Sometimes Mom prepared a traditional feast, like turkey and mashed potatoes. Other times she conjured up a themed buffet, such as a Scandinavian smorgasbord or a build-your-own-taco bar.
Regardless of the food, my mom always made these special occasions feel special. She polished silver, ironed tableclothes and napkins, and brought out her "good" dishes. It made those days feel just a little bit more festive. And we got to dress the part, too.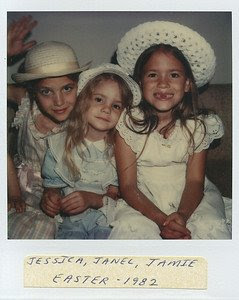 Unfortunately, I don't have it quite together when it comes to presentation – whether in my wardrobe or my tablescapes. My guests may just have to deal with paper napkins and plastic cups served by me in jeans and a tshirt. My attention usually goes to the food. (But, of course, you knew that already!)
In past years, our family has hosted up to 30 people for Easter Dinner. On those occasions, I made sure that all guests brought something to contribute to the meal as well as spent the days before preparing as much as I could in advance. One of my favorite Easter dishes is this brisket recipe. When we lived in Kansas City, brisket was the meat that regularly went on great sales. It's not really a popular California cut, so I had to learn how to make it during our tenure in the Midwest. It's a very easy maindish and very make ahead. Start Friday night if you want to make this ahead to serve on Easter Sunday.
Peppery Brisket
(adapted from this recipe)
4 to 5 pound boneless beef brisket, trimmed
1/4 cup coarsely ground black pepper
2/3 cup soy sauce
1/2 cup red wine vinegar
1 tablespoon tomato paste
1 teaspoon paprika
1 clove garlic, crushed
Spinkle pepper generously over brisket and pat to adhere. In small mixing bowl, combine soy sauce, red wine vinegar, tomato paste, paprika, and garlic. Stir well. Place peppered brisket in large baking dish. Pour marinade over. Cover with plastic wrap and refrigerate overnight.
Preheat oven to 300 degrees. Line large roasting pan with foil. Place brisket atop foil. Pour marinade over brisket. Cover pan securely with foil. Bake for 3 hours or until tender. The meat will shrink substantially. Allow to rest and slice against the grain.
If preparing ahead, place slices in shallow serving dish and pour some of the juices over top. Cover with foil and refrigerate until about 30 minutes before serving. Heat in over to warm.
What's a favorite main dish or side that you serve on Easter Brunch, Lunch, or Dinner? I'm not going to find inexpensive brisket here on the West Coast, so the FishFam's looking for a new star of the feast. I bet you've got a good one!
Here's how to participate in Ultimate Recipe Swap:
1. Post your recipe on your blog. Please mention www.lifeasMOM.com in your post so that your readers know where all the other good recipes are hanging out. Then, come back here to add the link to your post to Mr. Linky below. (Find instructions for Mr. Linky here.)
OR
2. If you don't have a blog, simply tell us about your recipe in the comments section.
Above all, please stick to topic. Recipe links that do not stick to the theme will be chopped. For example, chocolate mousse doesn't belong on "Easter Main Dish or Side" day. (No way. No how. Though, a girl can always dream.)
Have a story to go along with your recipe? We'd love to hear it! If you have a topic suggestion for future swaps, go here.
Looking forward to seeing what you have to share!