Boules de Picolat, also known as Catalan Meatballs, are one of my favorite foods. They are easy to make and super freezer-friendly.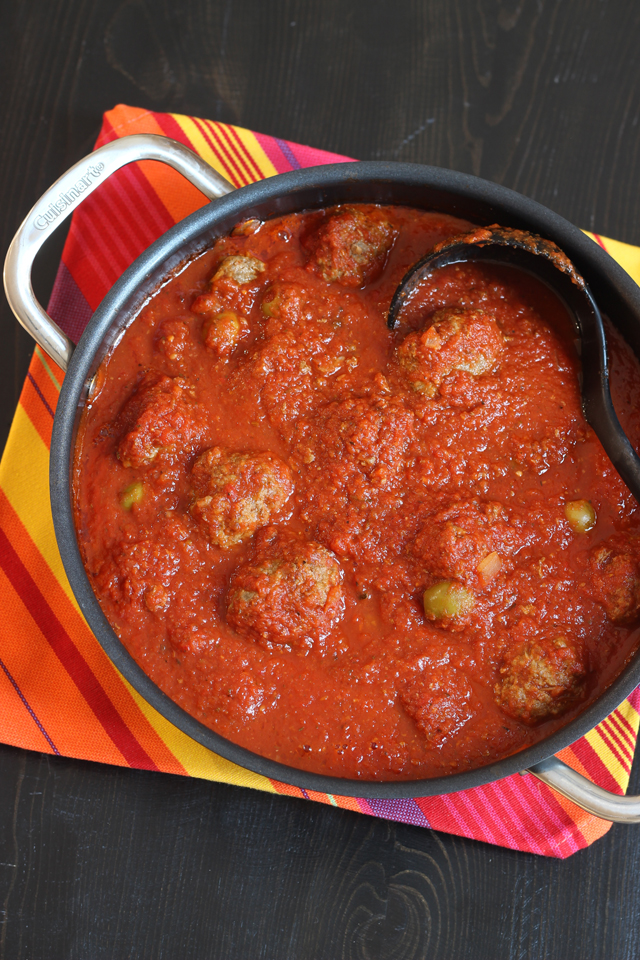 There's no question that not having to cook dinner is a good thing – any night of the week. And while take-out or eating out are certainly fun prospects, they're not always doable. And that's where pulling an entree out of the freezer – a homemade dinner – is just the ticket.
I've leaned on freezer-friendly recipes a lot over the years, even compiling some of my favorites into my cookbook, Not Your Mother's Make-Ahead and Freeze Cookbook. It's just the ticket to having home cooked dinners at the ready.
One of our favorite freezer-friendly recipes is a dish I first had when I lived in France. My "French mom," Michele, was Catalan. She made this traditional dish, Boules de Picolat, for me on my 21st birthday. She never gave me her recipe, so I had to approximate my own Boules de Picolat recipe from a Catalan cookbook I have.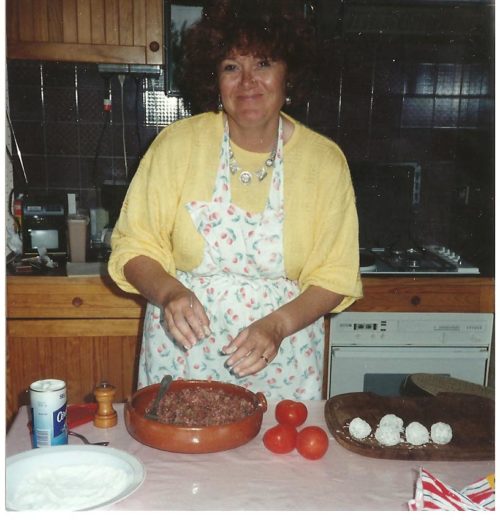 Michele, preparing Boules de Picolat for my birthday feast, 1993.
There is great debate amongst Catalan families whether to serve this with potatoes or rice. The Family Durieux serves Boules de Picolat with boiled potatoes, so we do, too.
I love the unique touch of dried porcini mushrooms (when I can find them) and green olives. Yum!
Boules de Picolat
Boules de Picolat, also known as Catalan Meatballs, are one of my favorite foods. They are easy to make and super freezer-friendly.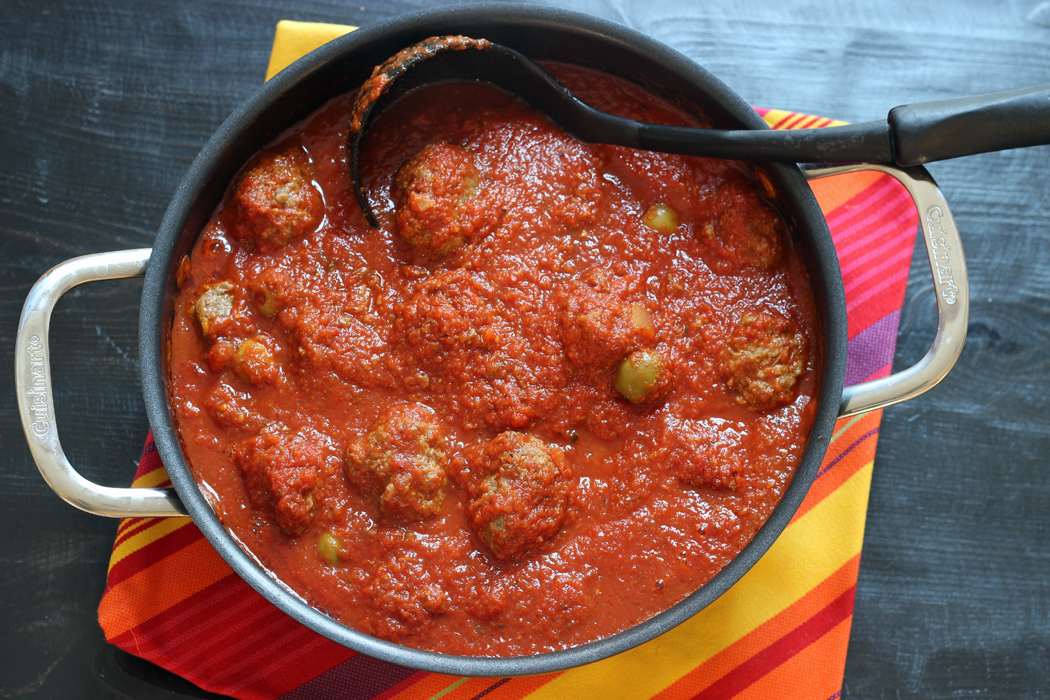 Preparation Time:20 minutes
Cook time:40 minutes
Total time:1 hours
8 to 12 servings
Ingredients:
1 ounce dried porcini mushrooms OR ½ cup sliced button mushrooms

1 pound ground beef

½ pound ground pork

2 white or yellow onions, chopped, divided usage

1 tablespoon dried parsley

3 cloves garlic, chopped

fine sea salt and freshly ground black pepper

½ cup flour

¼ cup vegetable oil plus 1 Tablespoon

1 28-ounce can crushed tomatoes, with added puree

1 14-ounce can diced tomatoes

1 cup green Spanish olives with pimiento

boiled and drained potatoes, for serving
Instructions:

If using dried mushrooms, soak the mushrooms in warm water for about 30 minutes or according to package directions. Remove from liquid and strain liquid well. Set aside the liquid to use later. Drain and rinse the mushrooms.
In a medium sized bowl combine the ground beef, pork, half of the onions, parsley, garlic, and the salt and pepper to taste. Form the mixture into 1-inch balls and roll in the flour.
Heat the 1/4 cup oil in a large heavy pot and brown the meatballs in batches. Remove from the pan and keep warm in the oven. Alternatively, you can bake the meatballs (not rolled in flour) at 375 for about 15 to 20 minutes.
When all the meatballs are cooked, prepare the sauce. Add the remaining tablespoon oil to the drippings in the pot. Add the remaining onions and the fresh mushrooms if using, and sauté until they become translucent. Add both cans of tomatoes and the reserved mushroom liquid and the porcinis if using those. Stir together over medium heat. Add the meatballs and cook over low heat for about 20 minutes. Stir in the olives and heat through.
Serve the meatballs and sauce over hot cooked potatoes.
To freeze: Divide the meatballs and sauce into meal-sized portions in plastic containers with lids. Chill completely before freezing. To serve from frozen: Defrost and heat completely.
Tools I use for this recipe:
Got a great make-ahead recipe that freezes well? Share it with us!