Since I grew up in Southern California, Mexican food was always a regular part of our diet. Though my dad was a Minnesota farm boy, he moved to California in his twenties and developed a taste for spicy foods. As a result, they were flavors I grew up with.
But Mexican food is not the only cuisine to feature a warm use of spice. Thai and Indian cooks, among others, know how to kick it up a notch. There's a whole world of flavors out there!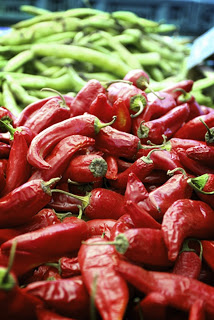 I'll never forget our first pediatrician who recommended that we feed our baby salsa! My husband loved that! (FishPapa loves spicy foods as well.) She reasoned that children need to be raised with the flavors and intensities that their parents liked.
Unfortunately, not all our children have adopted our flavor preferences. We're working on it. The following is a favorite of FishPapa and mine. This is one of my sister Jamie's wonderful dinners. You can adjust the heat based on how much jalapeno you use. When I use serranos, it's got an extra kick. (I know it's not "authentic," but we love it anyway.)

Makes 2 8-inch pans or 1 9×13-inch pan
Ingredients
2 cans cream of chicken soup OR use homemade cream of celery soup
8 ounces sour cream
1/2 cup milk
1 small can chopped green chiles
1 small can chopped jalapenos OR 1-2 fresh jalapenos, seeded and chopped (optional)
1/2 cup chopped onion
1 cup jack or cheddar cheese
12 corn tortillas cut into bite size pieces
2 cups cooked chicken breasts, diced
Instructions
In large mixing bowl, combine soup, sour cream, milk, green chiles, jalapenos, onion and cheese. Mix well. Stir in tortillas and chicken.
Spoon into greased baking pan(s), either one 9×13 or two 8-inch square pans.
At this point, you can cover the pans and stash them in the freezer. Thaw completely in the refrigerator before baking.
Bake 1 hour at 350°.
What's a hot and spicy dish that you make? Share it with us!
Here's how to participate in Ultimate Recipe Swap:
1. Post your recipe on your blog. Please mention www.lifeasMOM.com in your post so that your readers know where all the other good recipes are hanging out. Then, come back here to add the link to your post to Mr. Linky below. (Find instructions for Mr. Linky here.)
OR
2. If you don't have a blog, simply tell us about your recipe in the comments section.
Above all, please stick to topic. For example, Marshmallow Fudge doesn't belong on "Hot and Spicy" day. (Unless you're really creative.) If you have a topic suggestion, go here. Recipe links that do not stick to the theme, will be chopped.
Can't wait to see what you have to share!