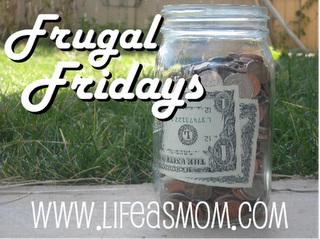 Yesterday's Birthday Cake Round Up was a testimony to the creativity of moms and home bakers. Wow! What fun stuff! Go check out all the cakes and be inspired to make your own.
Baking and decorating your families celebratory cakes can be a wonderful way to eat your cake and save money, too. Not only do you get to choose the decor and the ingredients, but you can also do it for less than half what a fancy — or not so fancy — bakery charges.
If you paid full price for baking ingredients at the store for a boxed cake mix and a can of frosting, you would pay, at most, $5. With sales and coupons, you can cut that price in half.
Now here's a little trick to saving even more:
Use Clearance Bakery Items Creatively
Allow me to explain. After Christmas I strolled the clearance aisle of my local Ralphs several times. And each time I found amazing deals. One day it was organic pumpkin for 5o cents a can. Another day it was fresh cranberries for 69 cents a bag. Another day, I found frosting and cake mixes for super cheap!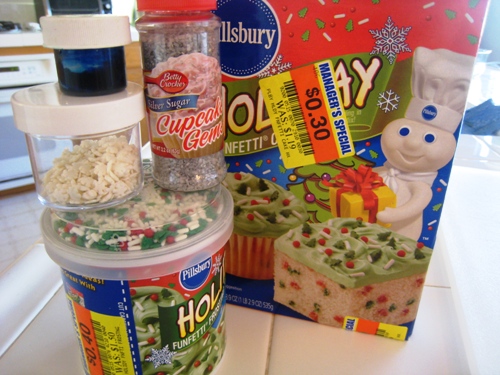 Canned frosting was 40 cents a can. Cake mixes were 30 cents. Now, obviously at first glance, these are very Christmasy items, right?
Wrong.
You don't have to use the sprinkles. The red, white, and green sprinkles are what scream holiday season at you, but underneath, this is simply green frosting and white cake. Leave out the sprinkles and you've got a very inexpensive birthday cake. Use coupons and the store will be paying you to take it from them.
You will find these holiday items after Christmas, Valentines, Easter, Fourth of July, and Halloween, and the store is motivated to sell them quickly. Often the expiration dates are months, if not years away. So, check the dates and then stock up. You can save them for next year, or just tuck the sprinkles away for a later date — and eat all the cake you want  today!
Still not convinced?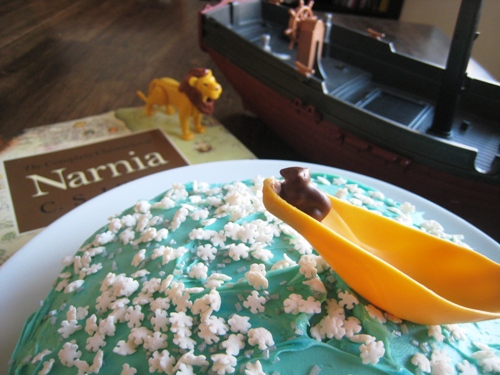 I created this Narnia birthday cake, using the above mentioned holiday clearance items. In fact, those "flowers" on the cake are actually snowflake sprinkles. Who would have thought that this was a cake baked with Christmas baking items?
Clearly, holiday clearance baking items can be put to good non-holiday use and save you a bundle of cash.
'Nuf said. 😉
How do YOU save money?
Tell us in the comments or leave a link to a recent money-saving post.
Next week on URS: SuperBowl Food