Use the right size pot for the job. You'll save time and loads of frustration.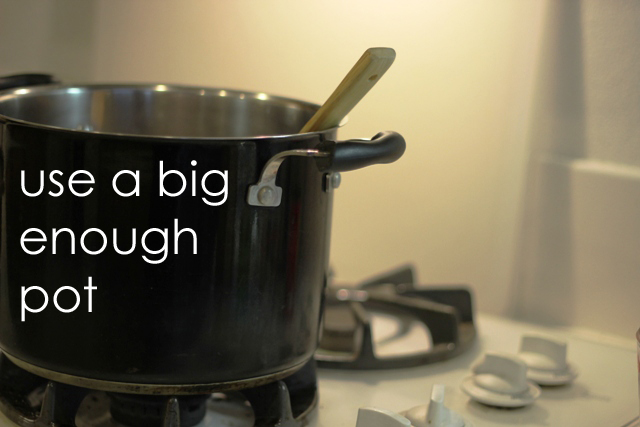 I have a tendency to be lazy. Ok, maybe lazy isn't quite the right word, not when it feels like most minutes of every day are filled with something to do.
I guess I have a tendency to cut corners. I don't always read directions. I sometimes skip certain steps and hope for the best. And I often try to make the cooking vessel at hand work when there is a better one to use instead.
Tonight I made Lawnmower Taco, one of my family's very favorite meals. Normally, I make the meat sauce in my 10-inch skillet. It's about 2 to 3 inches deep, so it's a close call when it comes to getting full. Usually it is very, very full which means I have to be very, very careful, and stir very, very slowly.
This time, I used my stockpot. It has the same footprint as my skillet, but is quite a bit deeper. You know what? It took me less time to make the sauce. It may be that it conducts heat better, but I doubt it. They are from the same set. The only noticeable difference between the two pans is their height.
By using an adequately sized pot, I was able to cook more efficiently. I wasn't worried about splashing food all over the stove. I had enough elbow room to work, so to speak. And it really wasn't much more work to wash the taller pot than it would have been to clean the shorter one. The size of the cooking vessel made a huge difference in my time investment.
Use a big enough pot and you'll save time in the kitchen.
This post is part of the Kitchen Time Savers series. You can follow along this month as we explore lots of ways to make more efficient use of our time in the kitchen.

Don't want to miss a post in this series? Subscribe to 31 Days of Kitchen Time Savers here. Get updates via email here