Grocery Geek Presents: FREE Product Coupons Rock!
We are a participant in the Amazon Services LLC Associates Program, an affiliate advertising program designed to provide a means for us to earn fees by linking to Amazon.com and affiliated sites. We participate in other affiliate programs as well. For more details, please see our disclosure policy.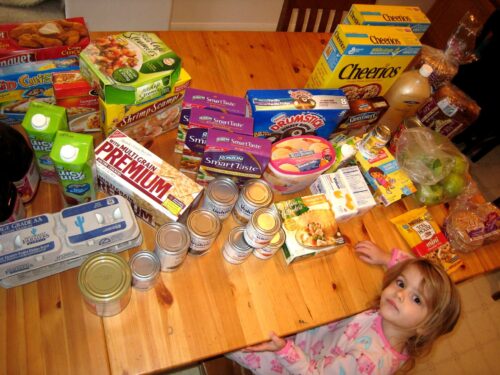 Thanks to the sponsors of Savvy Blogging and Blissdom, I had a huge stack of free product coupons in my coupon bag. You don't have to go to a blogging conference to get these coupons. Manufacturers are increasingly offering these as free samples and giveaways or as incentives for consumers to follow them on facebook. Keep your eyes open and you should see quite a few offered at any given time. MoneySavingMom can often give you the head's up.
Normally I try to save these for sales and work them into better deals. For instance:
Last week Ralphs had Hebrew National hot dogs "buy one get one free." I used a free product coupon and got both packages of quality, kosher hot dogs for free!
But, seeing as my cupboards are practically bare, I decided NOT to wait for sales and catalina situations and just redeem the whole stack at once. Friday night I told FishPapa, "I'm not sure they're gonna like me at the store." I went early on Saturday morning in the hopes that lines would be sparse.
As it was, the checkstands were deserted when it was time to check out, and I apologized profusely to the checker at the start of the order. With free product coupons, the checker usually needs to write the price of the item on the coupon itself, so it helps to have those sorted on the conveyor belt. "We" scanned the regular items first and then went item-by-item through the products I had free coupons for. Of course a line started to form during this process. But, in the end I purchased $103 worth of groceries for a mere $22.16. Yes, many of these items are "convenience" items, but I've been swamped lately and I need a little convenience in my life — especially if it's free!
Tips to Using Many Free Product Coupons at Once
Shop during off-peak times at the store. It helps to leave the kids at home.
Make sure you buy the correct item. Read the fine print on the coupon.
Get your coupons in order before you get in line.
Seek out a friendly looking checker or one who knows you're a grocery geek.
At the checkstand, sort your regular priced items from the freebies.
Talk with the checker before she starts scanning items so she's aware you're redeeming free item coupons.
Smile at the grumpy people in line behind you.
Do a happy dance when you save big bucks!
Did you score any great deals this week? Be sure to report them over at Super Savings Saturday.