Want to make your meals on Valentine's Day special? We've gotcha covered with a menu plan and shopping list that includes scones, homemade turkey sausage, mini pizzas, chicken Parmesan, and chocolate mint bars. Yum!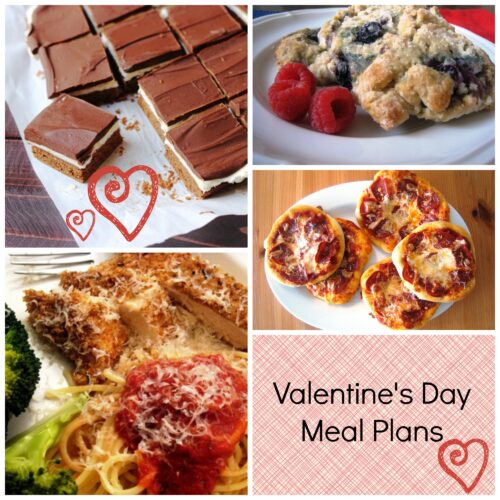 It crack me up that my kids think that days like Valentine's Day are real holidays. Really, what makes most of these minor "occasions" festive is the food. You know me.
For years I've made a special breakfast and supper for Valentine's Day. Breakfast is easy. In a pinch you can toss heart-shaped sprinkles on oatmeal and call it good. For dinner, I usually make the same meal I made for FishPapa on our first date, back in 1992. I made Chicken Parmesan, so that's what we have for Valentine's Day.
Call me sappy.
This week's meal plan is a full day of Valentine feasting. Tasty berry scones for breakfast, heart-shaped pizza for lunch, and of course, Chicken Parmesan for dinner. You don't have to go whole hog. I realize that not everyone has time to make all this in one day, but much of it is make-ahead. And you could always stretch out the meals across the week.
Or just toss heart-shaped sprinkles on oatmeal and call it good.
Printable meal plans
Did you know that there are now nearly 40 FREE printable meal plans plus a printable school lunch plan archived here at Life as MOM? Check them out and download a few so you can work your way to great food and peaceful evenings.
Each meal plan is designed to be kid- and budget-friendly, as well as be doable for novices as well as experienced cooks. And, of course each includes a shopping list and some make-ahead tips to make your week even easier.
Check out the meal plan archives if you haven't already.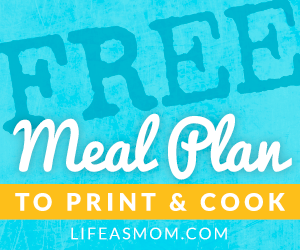 Here are the recipes featured in this Valentine's Day meal plan to print and cook. You'll need to print each one out as well as print the meal plan and grocery list. After that, you're good to go.
Breakfast:
Lunch:
Dinner:
Dessert:
Looking for a different kind of meal plan? Head here for more meal plans to choose from.
Want to learn how to make your own meal plans? Take Meal Planning 101.