As much as I plot and plan, you might think that my home runs like a well-oiled machine. Alas, that is sadly not the case. Things happen. Life happens. And I often find myself in a big ole' mess. More times than I would like to admit.
That's when having a few quick dinners in my repertoire really save my bacon — especially when I've forgotten to thaw it! Pasta is one of my go-to meals for quick dinners. Often I will heat up some red sauce and steam a vegetable or toss a salad. If I'm lucky, I get hubs to cruise by the bakery for baguette on his way home and we're good to go.
While many of my children would be content to eat plain noodles and Parmesan for the rest of their lives, I want a little more zip in my meal. Recently I made this one which was light and flavorful and packed with fresh produce.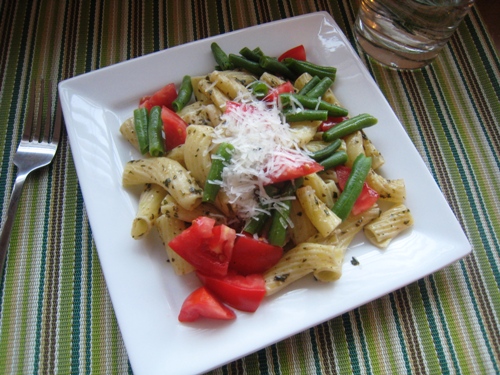 In our produce box we had lots of beautiful tomatoes, basil, and green beans. In the food processor I blended up the basil, garlic, and grated Parmesan and olive oil. This pistou is a French version of pesto, the main difference being the nuts. Since my youngest has a nut allergy, it works well for us. I made a big batch and froze it in small quantities to use at different times.

Recipe: Vegetable Pasta with Pistou
Ingredients
12 ounces ziti, cooked according to package directions, drained
1/2 cup pistou or prepared pesto sauce
2 cups steamed green beans
2 large tomatoes, chopped
freshly grated Parmesan cheese
Instructions
In a large pasta bowl, combine the pasta and pistou sauce. Toss to coat.
Divide the pasta amongst dinner plates and top with green beans, chopped tomatoes, and grated cheese.
Serve hot or at room temperature.
Preparation time: 10 minute(s)
Cooking time: 10 minute(s)
Number of servings (yield): 4
What's a quick cooking favorite at YOUR house?
We're just sharing quick dishes this week. Next week's topic is "5 Ingredients or Less."