Vegetables for a Healthier You – An Ultimate Recipe Swap
We are a participant in the Amazon Services LLC Associates Program, an affiliate advertising program designed to provide a means for us to earn fees by linking to Amazon.com and affiliated sites. We participate in other affiliate programs as well. For more details, please see our disclosure policy.

Last week, we rounded up a great collection of healthier recipes. Wow! This week it's time for the dish that folks dread the world over – vegetables. It seems that veggies have got a bad rep. Time to change that, moms!
When I asked my kids what their favorite veggies, I received a range of answers, from raw red bell peppers to cucumbers to pickles. At that point a debate ensued about "Is a cucumber a vegetable?" and "A pickle definitely isn't a veggis." Truth be told, these guys prefer a veggie tray or a salad for their vegetable course. But one cooked vegetable dish that they devour is called, "Mrs. Stark's Broccoli."  I know they will eat their broccoli if I cook it this way. In fact, we fight over it – as in, who gets to eat more of it!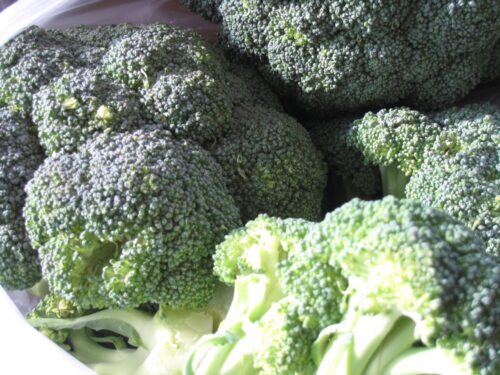 Mrs. Stark's Broccoli
2 bunches broccoli, stalks removed, cut into florets
4 Tablespoons butter or olive oil
1/2 teaspoon garlic powder
1 Tablespoon minced onion flakes
1/2 teaspoon salt
1/4 teaspoon pepper
1 1/2 teaspoon lemon juice
Steam broccoli on the stove-top or in the microwave. Drain. In large skillet, melt butter over medium-low heat. Add garlic powder and onion flakes. Stir well. Stir in broccoli and continue cooking until seasonings are well distributed and broccoli is very hot. Remove from heat. Sprinkle with salt and pepper and lemon juice. Stir gently and serve.
How do you cook veggies at your house?
1. Post your recipe on your blog. Please mention www.LifeasMOM.com in your post. Then, come back here to add your link to Mr. Linky below. OR
2. If you don't have a blog, simply tell us about your recipe in the comments section.