Want to be a Happier Mom?
We are a participant in the Amazon Services LLC Associates Program, an affiliate advertising program designed to provide a means for us to earn fees by linking to Amazon.com and affiliated sites. We participate in other affiliate programs as well. For more details, please see our disclosure policy.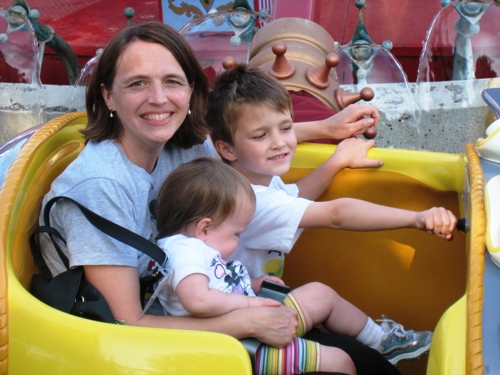 I realized early on in parenting, that despite my overachiever tendencies — or maybe because of them, I could take this motherhood thing to such lengths that I found myself frustrated and impatient. I would overdo until the point of exhaustion.
Who cares if my kid has a great birthday party, complete with golden-scaled dragon, if I'm crabby before it's even started?
I know that when I use a harsh tone or an impatient word, it seems to have a trickle down effect. Everyone feels it. I'm thankful for the lessons that God has lead me through. Usually they have to do with coming to grips with my faults and sins and realizing where I need to grow.
And sometimes it takes work. That picture up there? It's me and two of the littles on the Dumbo Ride, one of the most overrated rides in the world. But, I went on it. Even though I'm scared of heights. Deathly afraid of heights.
Sometimes you have to bust out of your comfort zone.
Here is a list of 14 ways I identified as things that help me be a better mom, a happier and more joyful one. I put together a pretty long series a few years ago addressing each one. I've realized that it's good for me to reread it at least once a year. You know what I'm reading this week.
What makes YOU a happier mom?