Wardrobe Woes
We are a participant in the Amazon Services LLC Associates Program, an affiliate advertising program designed to provide a means for us to earn fees by linking to Amazon.com and affiliated sites. We participate in other affiliate programs as well. For more details, please see our disclosure policy.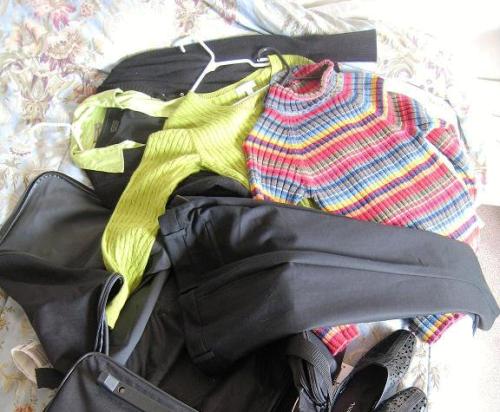 My closet and I had an argument this month. It went something like this:
This green dress really is beautiful.

You haven't worn it in two years.

Yes, but, it's modest; it's got pockets; it's bright and cheerful.

It doesn't fit and you have no fancy shindig to go to.

It was expensive.

So let someone else have the joy of wearing it.
You can guess who said what. We had this conversation multiple times about a variety of items.
My closet won.
I discarded several items that are either stained, too small, or just not my style. I hid in a corner (where she can't see) three very nice, almost new, "maybe-someday-I'll-have-a-fancy-shindig-or-hem-them-so-they-fit-or-lose-some-weight" kind of items. But there are several stragglers that are gonna get the boot in the next week.
I hated to do it, too. But, I know that I'll feel better if I go to a closet that holds only mostly things that I can or will wear, weather permitting. Such a better prospect than standing in the full closet "with nothing to wear."
What do YOU do?
Do you hang on for dear life? Or do you ditch and pitch?