This giveaway is now closed. Congrats to the winner: jteam1@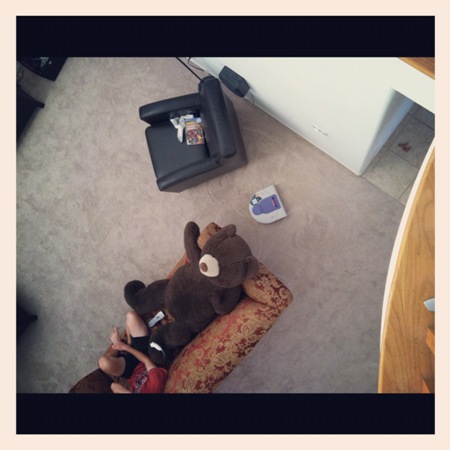 A few months ago, Neato Robotics contacted me about trying out their new automatic robot vacuum cleaner. Initially, I declined. I'd heard about other similar robot machines that really didn't work that well. Then I heard a friend's experience.
Here's what she said, emphasis mine:
I love that this thing is a robot, and I'm not big on gadgets. It was so helpful keeping dust to a minimum when we moved in, and now, we program it to run through the downstairs almost every night while we sleep. It's relatively quiet, so we don't hear it upstairs at all.
"We program it to run through the downstairs almost every night while we sleep"?! Hallelujah! Where do I sign up?! I emailed the company rep and begged asked for a sample.
We call our XV-21 Pet & Allergy Vacuum "Jarvis", in honor of Iron Man's loyal butler/computer. I love Jarvis. We run him several nights a week — after we get things picked up.
You see, my kids think that vacuuming is the hard part. What they're not quick to realize is that the vacuuming is the easy part. It's picking up all their junk and finding a home for it that's hard. Sheesh.
So, it's a win. Before bed I make sure everyone cleans a zone of the main floor: kitchen, family room, living room, school room, or entry way. Then Jarvis cleans while we sleep. Sometimes, I stay awake just to watch. It's fascinating to observe him clean the room.
And Tsh is right; he sucks up a ton of dust! Our allergies have been particularly bad this past month or two, so it's nice to have that dust getting picked up.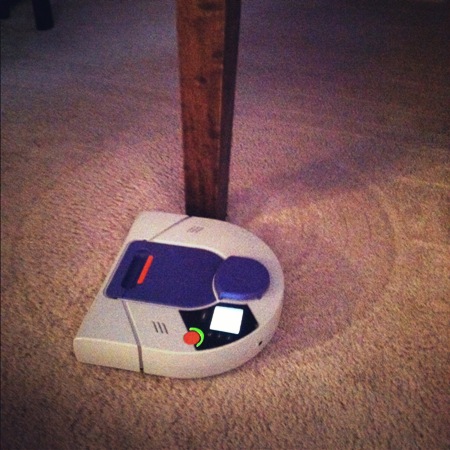 Jarvis, I mean, the XV-21 Pet & Allergy Vacuum, is unlike other vacuums that change direction solely when they run into something. While the Neato robot does do that, it also has a laser to scan the room to identify walls, stairs, and other obstructions. Once it finds a table leg, he circles it.
It's still a robot; it's not infallible. Ours often gets stuck under bookshelves and low tables, like our TV table. This is partly because we have very thick carpet and partly because the toe kicks under those pieces are tall enough to let him in, but then he gets stuck underneath.
The machine comes with a magnetic strip that you can lay across certain areas to block its entry. I even read the manual to find that out. You know it's a big deal for me to read the directions.
If you have thick carpet and/or a large floor plan — we have both — Jarvis won't be able to clean for as lengthy a time as if you have hard floors. We can get it to clean one large area per night, so we rotate it among the different sections of our main floor. That's the main drawback.
All in all, though, I love it. It's not Jarvis' fault that I have a big house with thick carpet.
This week I gutted our office and then let Jarvis take over. Sweet!
Edited to add, 10/28/12: In the last few days we had a problem with Jarvis. His display said that debris was stuck in his wheel. We found none. Hubby took the wheel off, thinking that perhaps it was wrapped around inside. Nothing. We called the customer service number. They said that we had violated the warranty by removing the wheel, but that they would replace the unit anyway. I think this is great, however, be warned, there is no warranty documentation in the box, nor is there any notice on the unit itself that says this. There are no special bolts or tape to warn you not to remove any part. I find this to be very confusing to the consumer. While it's great that they are going to replace the unit, I feel it's in your best interests that I let you know about this situation. I love Jarvis. And I can't wait to get his replacement. If you invest in one of your own, however, I want to be sure that you know your rights as the consumer.
Edited to add, 11/4/12: We were sent a refurbished unit, not a new one. I gave it a go. But, it just ran in circles. I called customer service — who's very nice, by the way — and the woman there offered instruction on how to do a hard reset and a small room test. Unfortunately, Jarvis II failed the test and continues only to spot clean in 3-foot circles. They are going to send us another unit in the hopes that this one will work. I'll keep you posted.
Edited to add, 11/8/12: The Jarvis III arrived yesterday and we ran him through his paces this morning. He seems to be working out well. Here's hoping that lasts for the duration.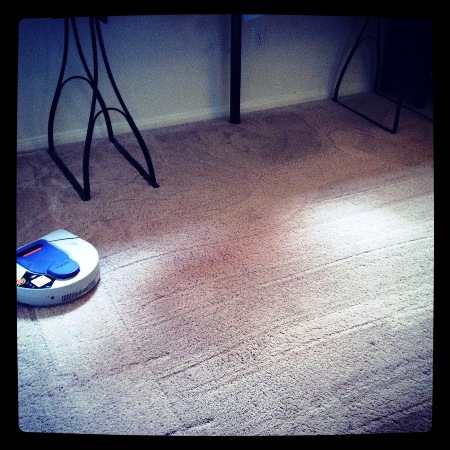 What's even sweeter is that one of you will get a XV-21 Pet & Allergy Vacuum of your own.
Neato Robotics is awarding one Life as MOM reader a XV-21 Pet & Allergy Vacuum.
To Enter:
Simply complete the information on this form. Please know that the information is only being gathered for the purposes of mailing you your prize in the event that you are chosen as the winner. This information will not be sold, traded, or given away.
This promotion is open until Sunday, October 28, 2012, at 8 pm PST and is limited to US residents, 18 years or older. Friends and family of Jessica Fisher and Life as MOM are ineligible for entry. The winner will be chosen randomly. The prize for this promotion is provided by and shipped by Neato Robotics and/or its representatives. This post will be updated with the beginning of the winner's email address. Jessica Fisher and Life as MOM will not be held responsible for unclaimed or undelivered prizes.
Disclosure: I received review product. All opinions are my own.