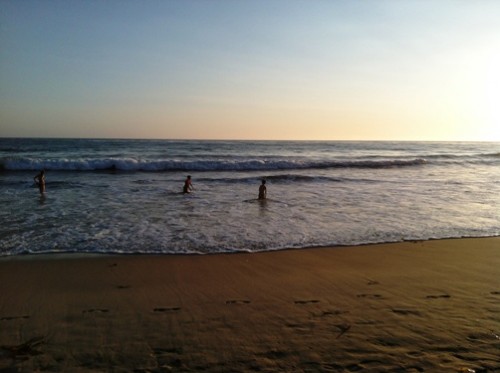 Last month two of my kids had a brush with Death. The riptide caught them and was dragging them out to sea. The waves kept crashing over them. My husband could not get to them.
I wasn't there. But, I can see the images in my mind. I know the beach. I know my kids. I know the catch in my husband's voice when he talked about it.
We almost lost our kids. And I still reel from the thought of it.
But, God…
But, God chose to spare them — and us — from a horrific tragedy.
Our boys know how to swim. We made sure of that. My husband is a diver. He's well-acquainted with the ocean. He just couldn't get to them fast enough.
God sent angels with surfboards to rescue my kids. And I'm so very grateful.
So grateful.
Over the last few weeks and months, God has brought me to my knees over and over again. He's reminded me
Our weekend, our month, our life could have been spent so differently. God has reminded us that we can't always be with our kids.
Despite our best intentions, we can't provide for all their needs. We can't protect them from everything. My husband would have done anything to get to them in that moment, and the waves just kept him back.
We can't be with our kids all the time.
But God can be.
And I'm so very thankful for that.
The Lord himself goes before you and will be with you; he will never leave you nor forsake you. Do not be afraid; do not be discouraged. — Deuteronomy 31:8