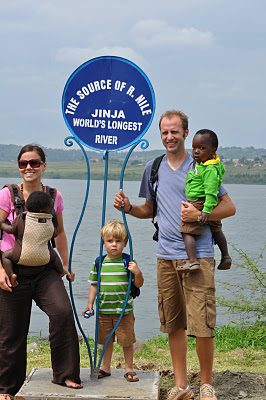 The dad in this picture is Andy Ribbens. We had the privilege of living with Andy and his parents and younger brother when he was a teenager. FishPapa rented their pool house/studio apartment the year before we got married, then I moved in as a new bride, and later we had our first baby while we were living there. Andy did FishKid duty on occasion, and now we have kids the same ages!
I am so excited to tell you a part of Andy's story!
Andy and his wife, Sara, and their older son, left for Africa in March to bring home not one, but two little children, by adoption. Due to legal snafus in their daughter's birth country, they've been unable to finalize things and return home. What was meant to be a six week stay has become months.
Since then, they have "moved" to Africa, in the sense that they are willing to do whatever it takes to care for and advocate for Baby Nya.
As a result, they have had a reduced income, as they use up everything they have to make this sweet baby "officially" their daughter. They are currently serving as her foster parents in a foreign country. (You can follow along with them on their blog: Let Love Guide.)
Adoption as Sons
I didn't ever "get" that concept of God adopting us until recently, thinking about Andy and Sara and how they are doing whatever it takes, giving their all, to bring these babies out of poverty and into a loving home. Jesus "paid it all" to give me an inheritance as a child of God.
Andy and Sara are such a good example of Christ-likeness for me!
You probably know others who've done the same thing. Hard things, that I don't honestly have the guts to do myself.
PLEASE PRAY for Andy and Sara and their little ones, and that God would clear the road blocks out of their path!
What Can I Do?
The Ribbens have this quote on their blog:
Sometimes I would like to ask God, why He allows poverty, famine and injustice in the world, when He could do something about it… but I'm afraid He might ask me the same question.

-Anonymous
Last weekend as I caught up with their story, and read exciting tales of mutual friends working to raise funds for the Ribbens, I wondered what I could do. What we could do.
I can't do a lot to end worldwide suffering, but if I can help this one little baby be placed in a loving home, well, that's something.
Especially to that one little baby.
Weekend Benefit Sale
As you know, I've self-published a number of books over the years. This weekend, I'm offering a coupon code for you to get $3 off any purchase of $8 or more. This is cool, in and of itself. Black Friday sale without leaving home! No crowds!
But, wait, there's more….
All the profits from this weekend's sale will be donated to the Ribbens, to help them and support them, living in Africa and working to bring about Nya's adoption.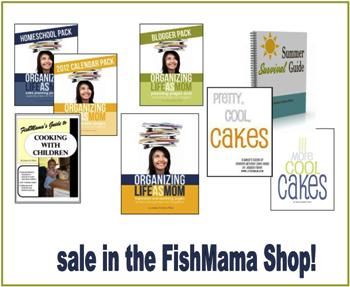 There are a few of my books that will be discontinued at the end of the year, so if you've got your eye on something, now would be the time to grab it. Head over to the FishMama Shop.
Use the code TURKEYTIME when you order and you should see the $3 deducted automatically.
You must use the code to get the discounts. These books are electronic documents. You will not receive anything in the mail from me. This coupon code (and the sale) will expire on Monday, November 28th at 9 pm PST.
It's my hope that you'll find a great resource for a great price and that together we can send a little help to a sweet family in Africa.
(If you're not interested in shopping but still want to help, feel free to visit the Ribbens' blog, Let Love Guide, and click the donate button in the sidebar.)
The sale is now over and the Ribbens are home in the States!
Have a wonderful Thanksgiving weekend!