A weekend giveaway from AsthamaSense.

It's been a couple months since I upgraded to an iPhone. I got the 4 instead of the 4s and saved myself about $300. Not that I needed the 4s, but still.
It's been a very fun toy tool. Friends were right that I would take more pictures once I had it, and that email and blog management would be easier and better. It's fun — and it helps me be productive, too.
One thing that I've been investigating are the apps that help me do all of the above. My husband has had an iPad for work, and even I've been able to show him a few things. This is huge for me!
I love the Reminders app for tracking my grocery lists. Such a help! Over the next few months I'll be sharing whatever gems I find along the way.
The AsthmaSense App
One that I haven't tried, but that looks like it could be really helpful to many families is the AsthmaSense app. Here's what the makers have to say:
Used with your iPhone or Android™ mobile device, it's a single, accessible resource to help you track peak flow measurements, medication use, asthma triggers and adherence to asthma action plans. AsthmaSense will actively remind you to take action steps like checking your breathing or taking medication. It also enables you to easily share collected information with your doctor or loved ones.
None of my children suffer with asthma, so I can't speak to the usability of the app, but I love it that technology can work beyond entertainment and help us in our day to day challenges. It seems like this app would be really helpful to families.
This weekend, THREE Life as MOM readers will win the AsthmaSense App.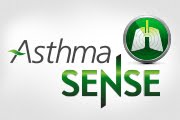 The app is still in beta, so these readers will be some of the first to try it out. Keep up with latest developments on Facebook or Twitter.
Enter to win:
Simply complete the information on this form. Please know that the information is only being gathered for the purposes of mailing you your prize in the event that you are chosen as the winner. This information will not be sold, traded, or given away.
This promotion is open until Sunday, July 8th, at 8 pm PST and is limited to US residents, 18 years or older. Friends and family of Jessica Fisher and Life as MOM are ineligible for entry. The winner will be chosen randomly. The prize for this promotion is provided by and shipped by Sound Asthma and/or its representatives. This post will be updated with the beginning of the winner's email address. Jessica Fisher and Life as MOM will not be held responsible for unclaimed or undelivered prizes or misuse of product.
THIS GIVEAWAY IS NOW CLOSED. CONGRATS TO THE WINNERS: sheebadaniel@,  cdawson71@,  Melissabieniek@
Disclosure: I received compensation for my time spent writing and administering this giveaway. All opinions are my own. As with all things related to health and medicine, please consult your doctor and use good common sense.