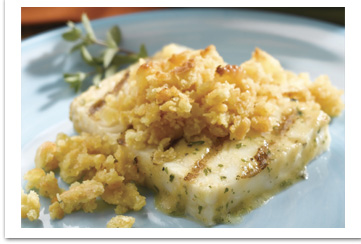 I love fish. Not only did I marry one, but I love the image of Jesus feeding the multitudes with just a few fish, of his calling to his disciples and promising to make them "fishers of men," of his preparing a meal for his men after his resurrection.
It's no wonder that fish plays a starring role during Lent, as we give extra special attention to what Jesus did before, during, and after the Cross.
As a child, my mom only prepared one fish dish that I can remember. It was sole in lemon butter with almonds. She never served it to us kids. It was just for her and my dad. And yet, I always wanted to sneak a few bites. Except for the bones, I loved that fish.
What I've learned is that fish vary so much in flavor and texture, that to say you "don't like fish," really isn't an accurate statement. Perhaps you don't like the kind you ate, or maybe what you ate wasn't prepared properly.
Fish is a great protein to add to a meal.

This weekend Gorton's Seafood is offering a special giveaway to LifeasMOM readers. From Gorton's,
Gorton's Seafood has more seafood selections and a Mercury free promise, making it easier than ever to get your USDA recommended two servings of fish a week.

Registered Dietitian Sylvia Melendez-Klinger offers the following tips to help your family fight obesity and improve your overall health:

Look for easy swaps. Add more fish and shrimp to your diet by preparing one of your family's favorite recipes and swapping the protein for fish or shrimp. Seafood is great on salads, in pasta, tacos or in a stir-fry.
Stock your freezer. Avoid high-calorie, high-fat food temptations by stocking your freezer with a variety of options. With frozen seafood, like Gorton's flame grilled fish and shrimp, you can prepare a nutritious, delicious recipe in minutes.
Make colorful, healthy toppings available. For a quick-and easy lunch or dinner, serve whole wheat tortillas or sandwich thins with prepared grilled tilapia or salmon. Then present a host of toppings, like avocado, tomato, cucumber, or spicy or dilled yogurt, so everyone can add their personal favorite.
Try Gorton's for yourself
This weekend five LifeasMOM readers will each receive a coupon good for a free Gorton's product.
Simply leave a comment, telling us about your favorite fish meal.

For an extra entry, "like" Gorton's facebook page and come back and leave a second comment, telling me you did so.
Comments will be accepted until Sunday, April 10, 2011, at 8 pm PST. Winners will be chosen randomly and notified via email. Please respond within 48 hours to claim your prize.
This giveaway is now closed. Congrats to the winners:
shoge1232@
frestuffrocks42@
scrappymom2be@
sun2shinehere@
jenmason84@
Disclosure: I have been compensated for time spent in conjunction with this giveaway. I was not compensated to publish positive comments. My opinions are my own.