This giveaway is now closed. Congrats to the winner: Mlmaptsearch@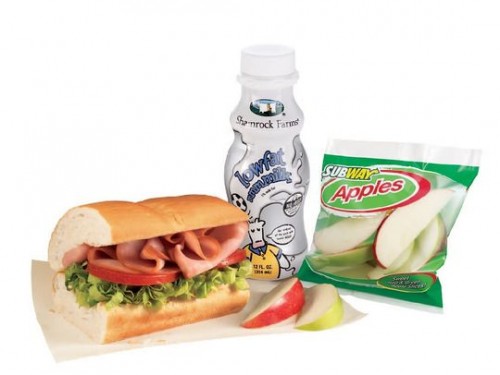 While I am a big supporter of cooking and eating at home, there are times when I love to let someone else do the cooking. About once a week, I call on the aid of some kind of convenience to feed the fam in addition to our weekly date night when hubs and I let someone else cook and do the dishes.
Subway is one of our go-to places. Last weekend when we had four back-to-back hockey games right at dinnertime, I chose to make a run to Subway for our supper. Everyone ate well; everyone was happy. All I had to worry about was driving the FishMama taxi to and fro.
We usually split up several foot-long sandwiches, though each of my big boys would be happy to have the entire foot to himself. Every once in awhile we splurge for the kid's meal for the little ones. When hubby and I started watching what we eat, Subway remained one of the few chains we could include on our list of dining choices.
Recently, Subway's Fresh Fit for Kids meals were extremely highly rated in a report put out by the Center for Science in the Public Interest. The report, entitled, "Kids' Meals: Obesity and Poor Nutrition on the Menu," ranked Subway's kids meals as the only one out of all the major national chains to meet the criteria of  less than 430 calories, less than 35% fat, 0 % trans fat, 35% added sugars and 770 mg of sodium.
Now, I know that numbers can be misleading — and food is complicated. Just because it's low in calories doesn't make it healthy.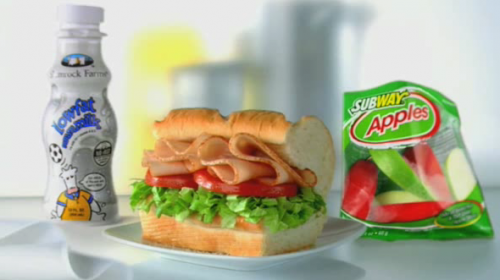 That said, I know from experience that Subway does offer a wealth of fresh vegetables which is a lot more than I can say is found in a burger or fries. In my mind, Subway is in my personal top 5 of places that I feel okay about in terms of quality, service, and price.
This week one Life as MOM reader will win a $40 gift card to Subway.
To Enter:
Simply complete the information on this form. Please know that the information is only being gathered for the purposes of mailing you your prize in the event that you are chosen as the winner. This information will not be sold, traded, or given away.
This promotion is open until Sunday, April 21, 2013, at 8 pm PST and is limited to US residents, 18 years or older. Friends and family of Jessica Fisher and Life as MOM are ineligible for entry. Please enter only once. The winner will be chosen randomly. The prize for this promotion is provided by and shipped by Subway and/or its representatives. This post will be updated with the beginning of the winner's email address. Jessica Fisher and Life as MOM will not be held responsible for unclaimed or undelivered prizes.
Dis­clo­sure: I received a complimentary gift card from Subway. All opin­ions are my own.