THIS GIVEAWAY IS NOW CLOSED. CONGRATS TO THE WINNER: dkmiata@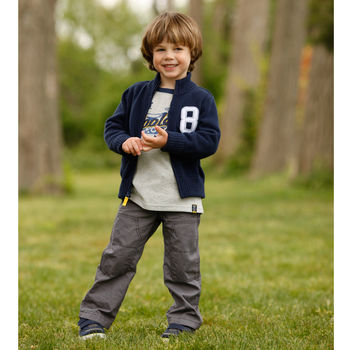 The weather has just been wacky this year. Even in moderate San Diego we've had strange heat waves, excessive humidity, and odd cool spells.
There have been several occasions when hubs and I looked at each other and said, "I thought we weren't in Kansas anymore."
My younger kids have been perplexed at what to wear. They see the cloudy skies and think it must be cool. They make me sweat just looking at them in long sleeves, leggings, and socks.
But, I know the time will come for the warmer clothes. And I just love the idea of layers for kids. You can plan their school and play clothes so that they can strip or layer as the weather (and their mood) changes.
Wear Now, Layer Later with Carter's
Recently, Carter's wrote me to share some of the ways that they're making the summer-to-fall transition easier. If you're like me, you probably grew up with Carter's clothing. My mom swore by their footed jammies for us kids in terms of quality and comfort.
Not only does Carter's have a back to school sale going on until tonight, but they also have some great Labor Day specials going through the weekend where you can get 50% off the entire site. Their selection is totally cute and at half-off, well, that's a pretty sweet deal.
For girls, they have an amazingly colorful array of tops and bottoms for outfits made so easy your girlie can choose for herself. Tunics and leggings are perfect for wearing now and layering later.
In the boys' department, cargo shorts will be your little guys' favorites in the warm weather, but lined hoodies are quick and easy to layer during cooler weather.
Find a Carter's location near you, follow them on Twitter, like them on Facebook to keep up with all the cute stuff. I'm loving the 50% off in the pajama shop and may just be tempted by the cute critter towels as Christmas gifts.
This weekend one Life as MOM reader will win a $50 gift carter to Carter's.
To Enter:
Simply complete the information on this form. Please know that the information is only being gathered for the purposes of mailing you your prize in the event that you are chosen as the winner. This information will not be sold, traded, or given away.
This promotion is open until Monday, September 3, 2012, at 8 pm PST and is limited to US residents, 18 years or older. Friends and family of Jessica Fisher and Life as MOM are ineligible for entry. The winner will be chosen randomly. The prize for this promotion is provided by and shipped by Carter's and/or its representatives. This post will be updated with the beginning of the winner's email address. Jessica Fisher and Life as MOM will not be held responsible for unclaimed or undelivered prizes.
Disclosure: Carter's partnered with bloggers such as me to help promote Wear Now, Layer Later. As part of the program, I received product or gift cards. Carter's believes that consumers and bloggers are free to form their own opinions and share them in their own words, and therefore did not tell me what to purchase or what to say about the products I used. Carter's policies align with WOMMA Ethics Code, FTC guidelines and social media engagement recommendations. The winner of any giveaway in this program will be randomly chosen and gift card fulfillment will be handled by a third party.