Weekend Trip: An Eating Tour of Santa Barbara
We are a participant in the Amazon Services LLC Associates Program, an affiliate advertising program designed to provide a means for us to earn fees by linking to Amazon.com and affiliated sites. We participate in other affiliate programs as well. For more details, please see our disclosure policy.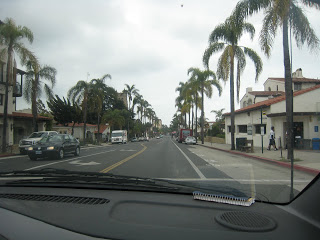 We spent the weekend away, back in our old stomping grounds. What a walk down memory lane! FishPapa grew up in Santa Barbara. I went to college there. We met and married there. FishBoy 11 was born there.
The place is full of memories. That is for sure.
If you've ever been to Santa Barbara, you know that State Street is the main drag. It goes for several miles, ending in the Pacific. Literally. As we cruised it, I found myself pointing out all the restaurants I've ever dined in. And you know what?
I could do it from beginning to end. I could narrate the entire street based on the culinary delights, both past and present, that it holds.
This gives me pause. As it should you.
What kind of freak am I?! Just makes me wonder if food is just a tad too important to this ol' tummy of mine. Hmmmm….
Anyways, in case you were wondering:
** La Supericas, though not on State Street, is still as good as it always was. It was Julia Child's favorite Mexican food restaurant. It was a well-kept secret until she told the press. And now the word is out. The lines can be a block long. We beat the rush. And it was fantastic. I recommend the Number 8. Sorry, no picture. Have you ever tried feeding six children in a crowded taco joint? Yeah.
** Rudy's is probably our second favorite Mexican food place in Santa Barbara. The sopes were wonderful, exactly as I remembered them.
** Peets Coffee has now opened a second location. And while my sister and her husband prefer the Upper State shop, I have to say that I prefer the one downtown. They made my mocha to perfection, right down to the pretty drizzle of chocolate sauce over the whipped cream and a fancy schmancy bag to hold my coffee purchase in. I can compare the two locations, because of course, I went to them both two days in a row. (Can you say glutton?)
** Blenders was a brand new wheat grass/smoothie bar some 15 years ago. Now, they have multiple locations. It's still as good as it always was. We recommend the Red Orange.
Some places were no longer in their proper places. Some have closed. Some were closed when we were ready to eat.
They say you can never go home again. But, me and my stomach? We're sure going to try.
What's a culinary indulgence of yours that reminds you of the good ole' days?