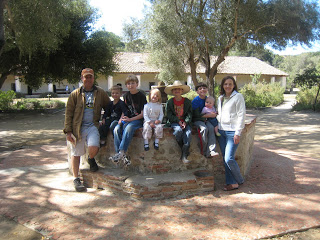 Last time we saw Grammy and Grampa, we visited the King of the Missions, San Luis Rey. This past weekend we visited another of the California Missions, La Purisima.
While San Luis Rey is located within a large city, La Purisima is in the boondocks. Walking the fully restored grounds gave us a more realistic picture of what life might have been like for the Chumash and the Spaniards in the 1800s.
Here we are at another fountain.
I joked with the grandparents that visiting all the missions will be a great excuse for us to travel the length of the California coast with them. One child has already requested that we visit the Queen of the Missions.
While these field trips may not be the most "stimulating" in terms of entertainment, they are great outings that gives the kids lots of space to run around and the opportunity to learn something of days gone by.
What family field trip have you taken lately?