Want a fun and delicious week of dinners this week? I've got you covered with grilled chicken, Crockpot enchiladas, chicken caesar salad, and more good stuff. Print this weekly meal plan and get cooking!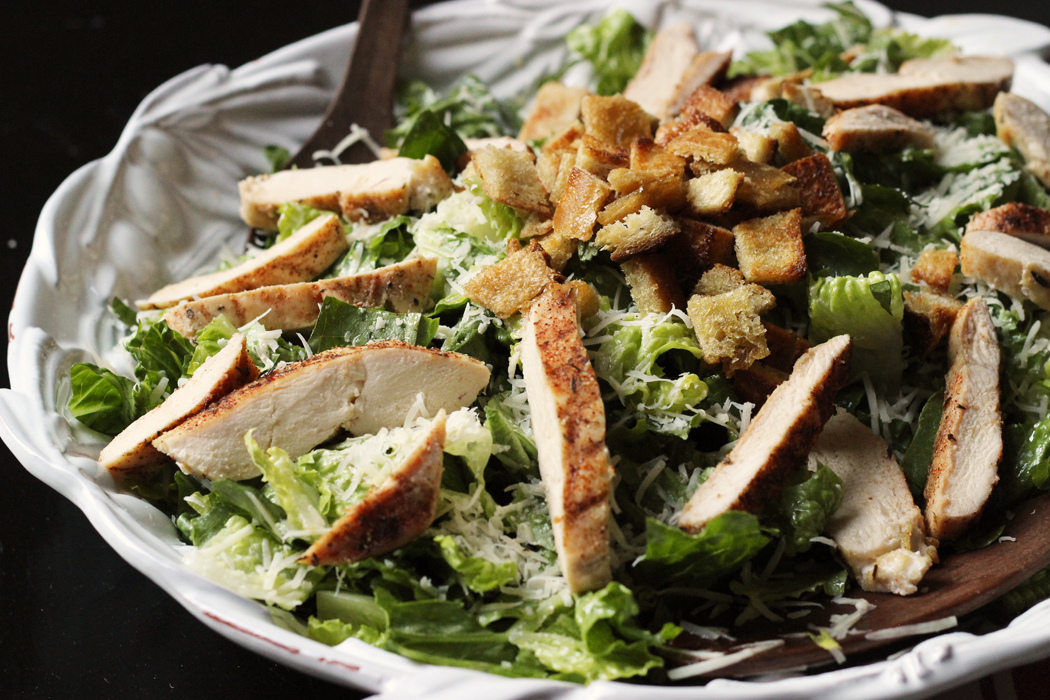 Ready for an easy week of meals? Well, I've got you covered with a weekly meal plan to knock your socks off. Not only are these meals easy to prepare and kid-friendly, but the menus build on one another. Cook one night and eat two to three meals from that effort. Oh yeah, baby! That's my kind of week!
Grilled chicken is a regular go-to meal around here. If I cook a bulk batch, then I have extra to freeze or to use throughout the week. That's how this plan is going down.
If it's not quite warm enough to cook out at your house, never fear. I've broiled our chicken before, and we liked it just as well as grilling. Just set your oven to broil, flip the chicken once or twice, don't let it overcook, and you're ready to roll.
Weekly Meal Plan to Print & Cook #10
Here are the recipes featured in this week's meal plant to print and cook. You'll need to print each one out as well as print the meal plan and grocery list. After that, you're good to go.
I'd love for you to rate each of the recipes after you make it. Just head back to the recipe post and give it a starred rating in the comments section. Thanks so much!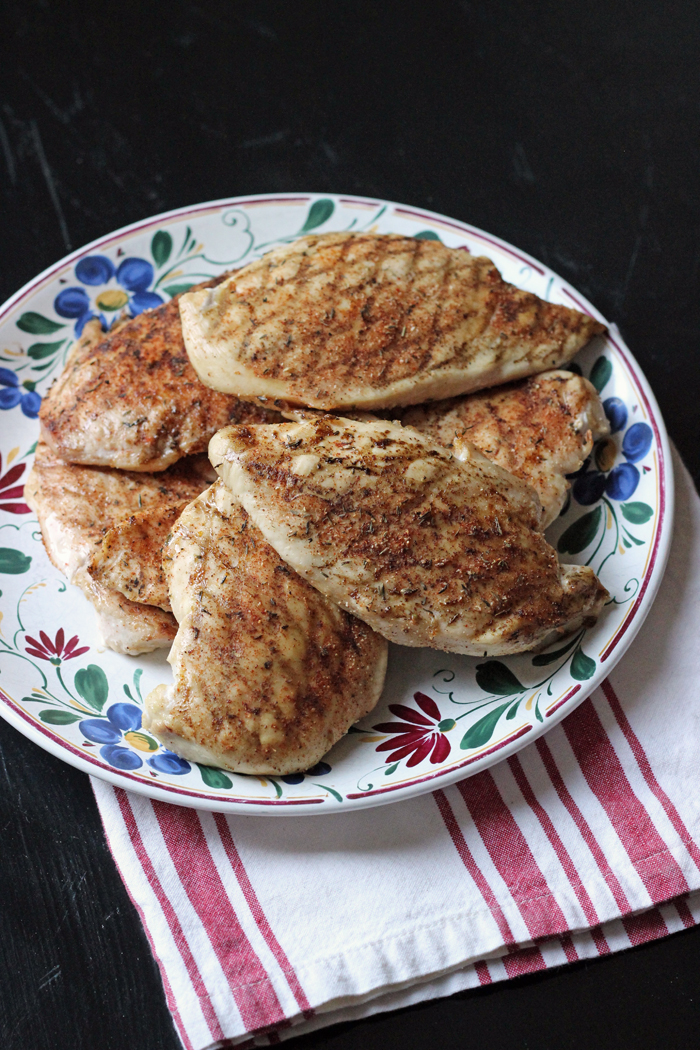 Grilling Night: Grilled Chicken (make enough so that you have enough chicken for Pizza Night and Salad Night; add side dishes and bread)
Grilling chicken in bulk is a great way to save money and time. It provides for tonight's dinner, but also allows you the luxury of tasty grilled meats at a moment's notice to add to any number of recipes, like entree salads or pizzas.
Get the recipe: Grilled Chicken for the Freezer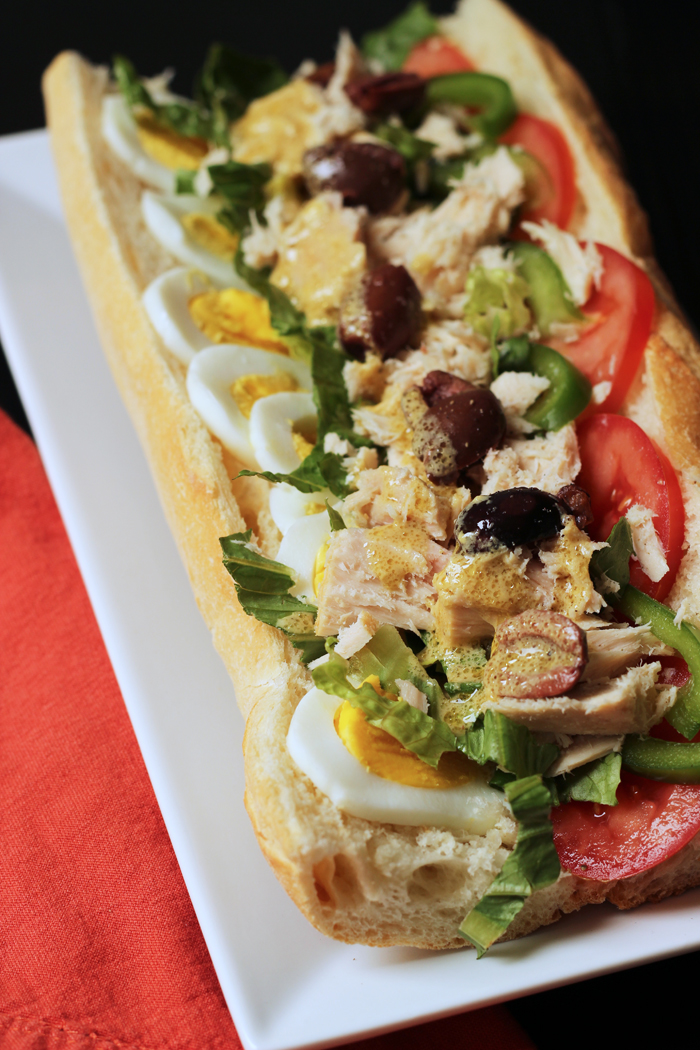 Sandwich Night: Pan Bagnat Sandwiches (add vegetable side dishes)
Enjoy the flavors of the Mediterranean and low cost ingredients in the classic Pan Bagnat. Simple to make, it's a perfect tuna sandwich.
Get the recipe: Pan Bagnat Sandwiches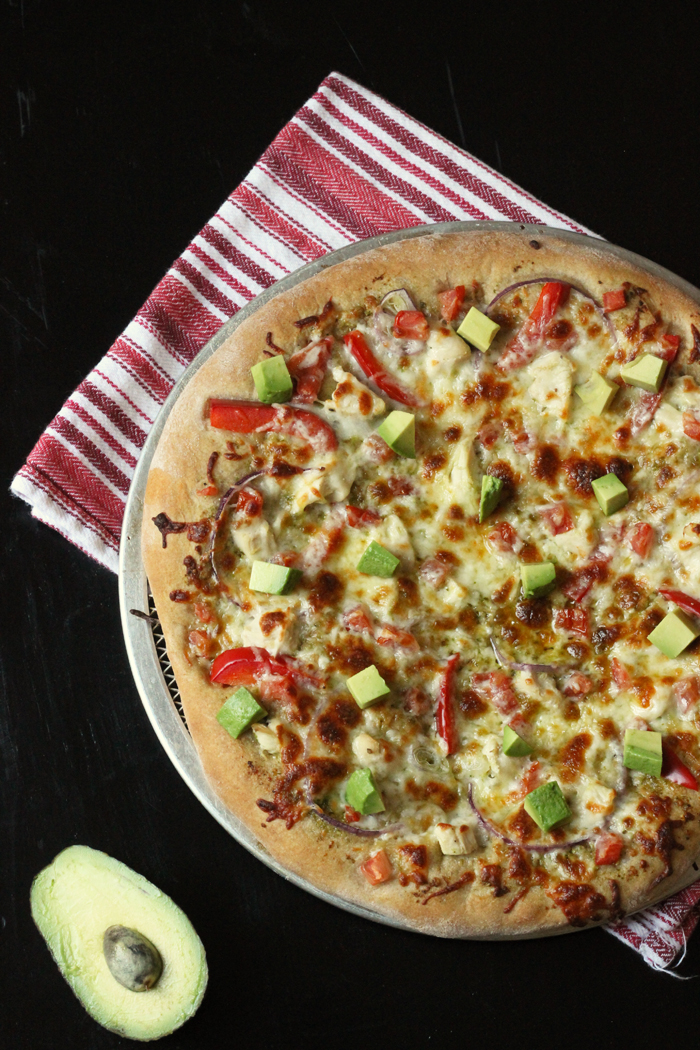 Pizza Night: Chicken Pesto Pizza with Fresh Avocado (add salad or veggie dippers)
Enjoy a healthier pizza night this week with this homemade Chicken Pesto Pizza with Fresh Avocado featuring a whole wheat crust.
Get the recipe: Chicken Pesto Pizza with Fresh Avocado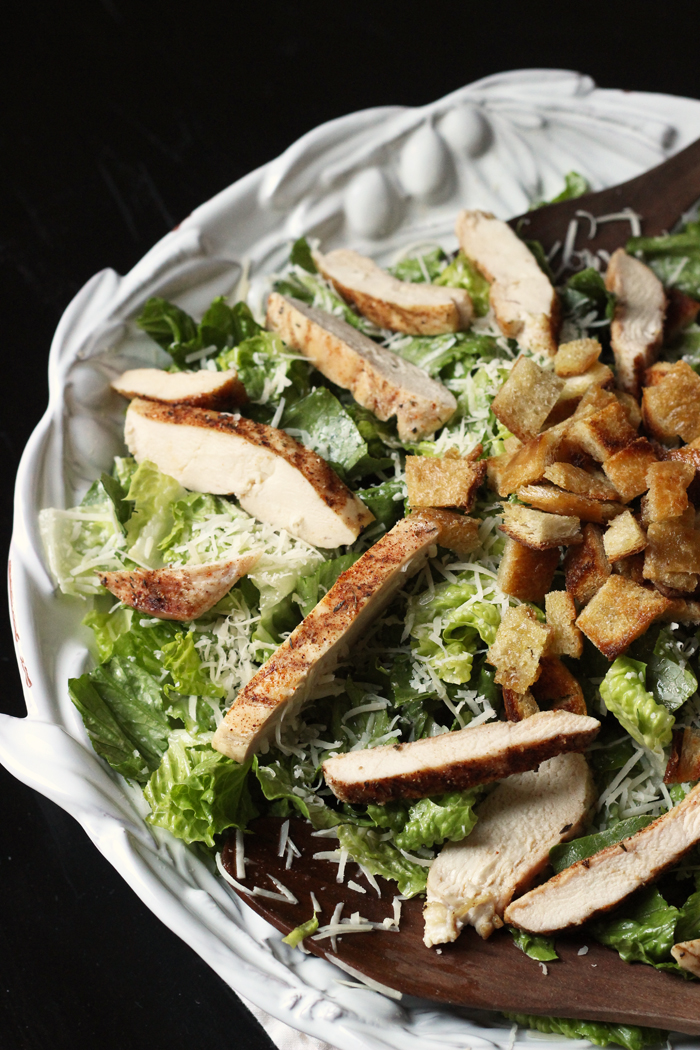 Salad for Dinner Night: Poorman's Chicken Caesar Salad (add bread)
Entree salads are a great one to enjoy delicious flavors without spending a lot of money. This Chicken Caesar Salad is made from scratch quick and easily and tastes fantastic!
Get the recipe: Poorman's Chicken Caesar Salad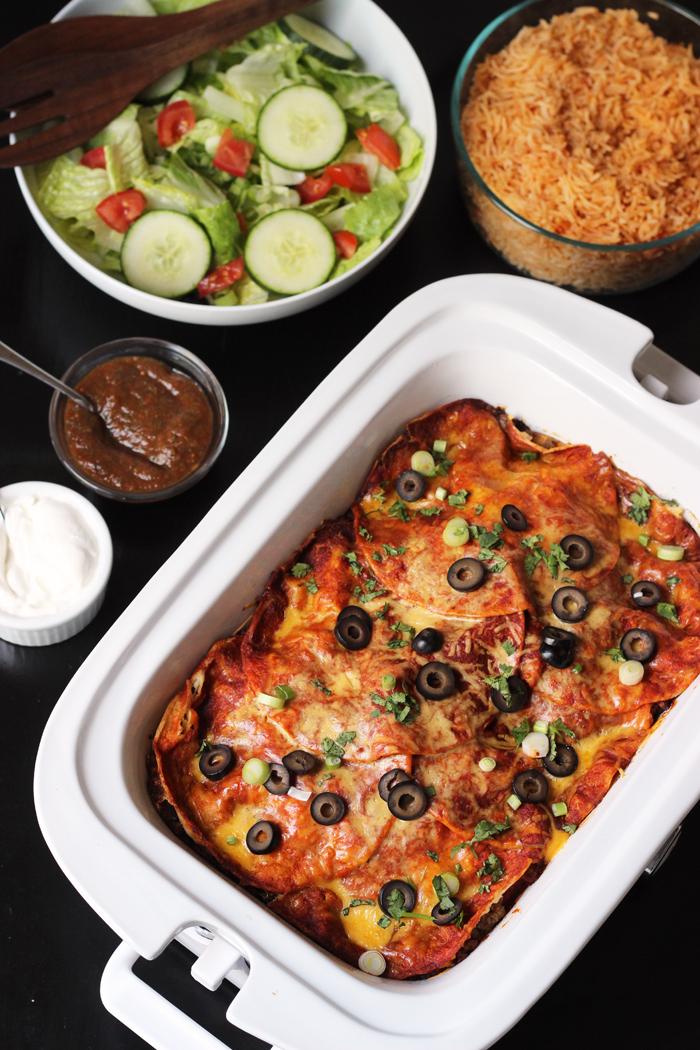 Slow Cooker Night: Bean and Meat Crockpot Enchilada (add salad)
Let the slow cooker do the work for you with these lazy cook enchiladas. Simply layer beans, meat, tortillas, cheese, and sauce, for the simplest delicious Crockpot Enchilada.
Get the recipe: Bean and Meat Crockpot Enchilada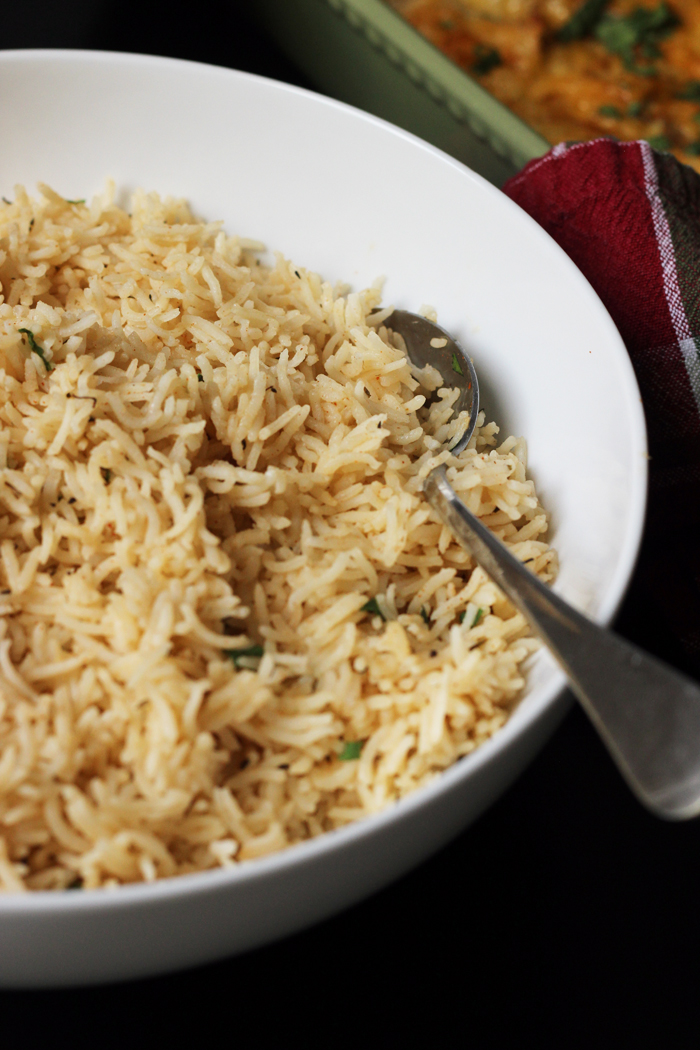 Side Dish: Quick Seasoned Rice for Stovetop & Instant Pot
There's no need for fancy sides when you can make seasoned rice. This Quick Seasoned Rice comes together with just a handful of ingredients, making for a super simple side dish any night of the week.
Get the recipe: Quick Seasoned Rice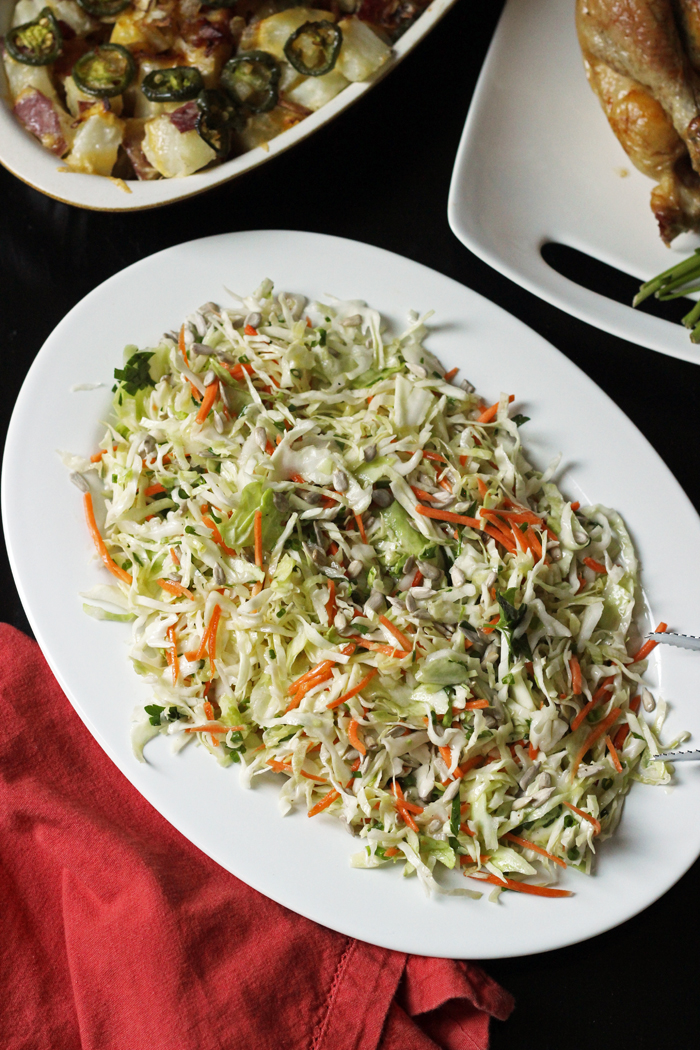 Salad: Sunshine Cole Slaw
Cabbage can make a tasty, affordable salad, especially when purchased on sale. This cole slaw recipe bursts with sunshine flavors of lemon, carrot, and chive. Add Sunshine Cole Slaw to your meal plan this week!
Get the recipe: Sunshine Cole Slaw
Bread: Spiced Carrot Bread
Spiced Carrot Bread is an excellent, affordable option for a delicious home baked goodie. Carrots add flavor, texture, and fiber to this spiced quick bread, making for a quick snack or elegant addition to the breakfast tray. Talk about a great way to eat your veggies!
Get the recipe: Spiced Carrot Bread

Dessert: Snickerdoodle Bars
One of the most American of cookies is the Snickerdoodle, sweet buttery balls of dough rolled in cinnamon sugar. Get to the eating all the quicker with this delicious bar cookie recipe. These Snickerdoodle Bars are easy to make and taste just as good as the classic without the work.
Get the recipe: Snickerdoodle Bars
So that's the lineup for this week's meal plan. Ya ready to get cooking? All these recipes make part of this easy, make-ahead, budget-friendly, kid-approved meal plan. You get the grocery lists and all the prep tips in the free, printable meal plan.
Happy meals are here to stay!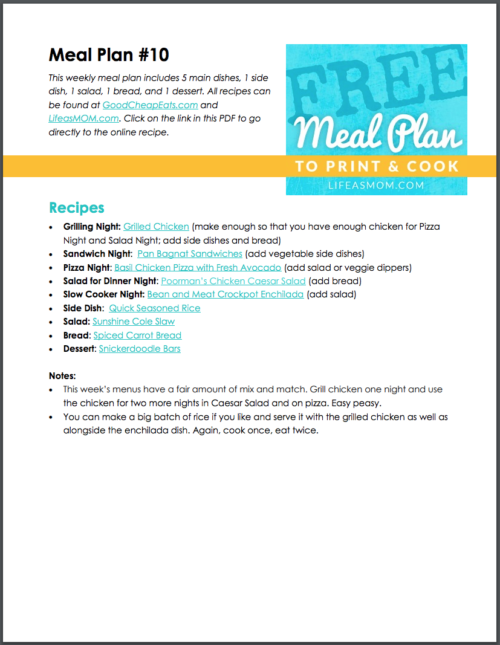 Enter your email address below to get the free printable weekly meal plan. At the same time, you'll be subscribed to my Weekly Ramble newsletter. You can unsubscribe at any time.
Looking for a different kind of meal plan? Head here for 50+ FREE meal plans to choose from.
Originally posted April 28, 2013. Updated March 17, 2018.