You can bank on the fact that your kids will want to eat at least three times a day this week. Grab this FREE printable meal plan that makes the work of dinnertime just  a little bit easier.
I spy with my little eye, a child who will be hungry again in less than three hours. You guessed it. Just as soon as you clean up breakfast, the kids will be asking what's for lunch.
Cut their queries off at the pass by having a meal plan for the week ready and waiting!
This week's meal plan includes a little bit of everything: something for the crockpot, something for the stovetop, a salad, a sandwich, and something to throw on the barbie. Plus, if you've got a plethora of zucchini to use up, this meal plan will help you do it.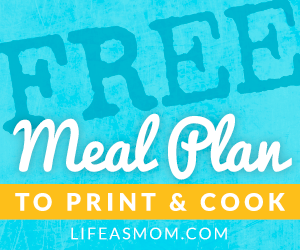 Here are the recipes featured in this week's meal plan to print and cook. You'll need to print each one out as well as print the meal plan and grocery list. After that, you're good to go.
Looking for a different kind of meal plan? Head here for more meal plans to choose from.
Want to learn how to make your own meal plans? Take Meal Planning 101.