Having a meal plan at the start of the week can help you manage your time better as well as get healthy, homecooked meals on the table. We've done the work with this free printable meal plan and grocery list, so you don't have to.
We've been having uncharacteristic weather here in San Diego this week, hot and humid. It's not too different from the rest of the country, except that we're not set up for this kind of heat. Our house has no AC and few fans since there's almost always a breeze and 70 degree temps. Oy!
This week's meal plan includes a little bit of everything — and accommodates for hot weather: something for the crockpot, something for the stovetop, a salad, a sandwich, and something to throw on the barbie. Plus, if you can find a good deal on day-old bread, you'll have the components to three of the meals without really blinking an eye.
The meal plan, of course includes a shopping list and some make-ahead tips to make your week even easier.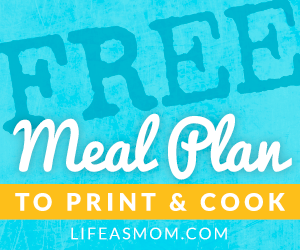 Here are the recipes featured in this week's meal plan to print and cook. You'll need to print each one out as well as print the meal plan and grocery list. After that, you're good to go.
Looking for a different kind of meal plan? Head here for more meal plans to choose from.
Want to learn how to make your own meal plans? Take Meal Planning 101.