This week's meal plan is a little bit different. Download a complete Thanksgiving Meal, complete with grocery list and make-ahead tricks.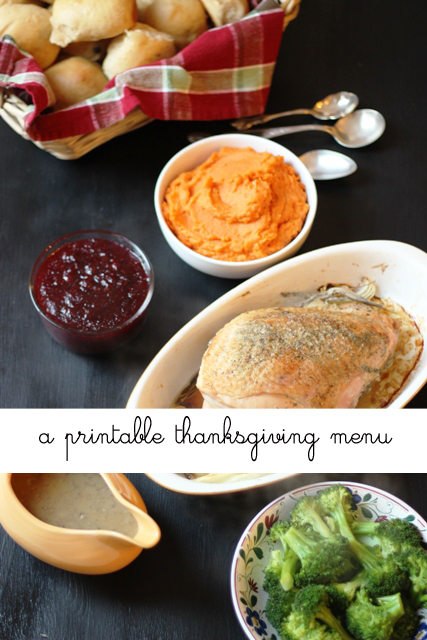 The Thanksgiving meal is arguably the largest and most expensive meal — not to mention time-consuming — that most Americans prepare in a year. I remember celebrating Christmas in France. I'd say the meal my French mom prepared could certainly compete with Thanksgiving.
Our Christmases aren't nearly as elaborate as Thanksgiving. It's the one time of year that culturally, we Americans pull out all the stops. With about ten days until Turkey Day, it made sense to make this week's printable a Thanksgiving Meal.
Yes, meal.
The grocery list for this week comprises one meal for 8 to 12 people and maybe a few leftovers, if you're lucky. Don't worry, next week's meal plan will help you use up the leftovers.
Selfishly, I chose the menu items that our family is really going to eat come turkey day. Feel free to sub in the recipes that "make" the holiday for you and your people. There's room on the grocery list for you to add some extras. Need inspiration? Browse the thanksgiving recipe archives at Good Cheap Eats.
Many of the items on this meal plan can be made several days in advance or even frozen. So, you should be able to alleviate some of your time in the kitchen on Thursday.
Printable meal plans
Did you know that there are now over 25 FREE printable meal plans plus a printable school lunch plan archived here at Life as MOM? Check them out and download a few so you can work your way to great food and peaceful evenings.
Each meal plan is designed to be kid- and budget-friendly, as well as be doable for novices as well as experienced cooks. And, of course each includes a shopping list and some make-ahead tips to make your week even easier.
Check out the meal plan archives if you haven't already.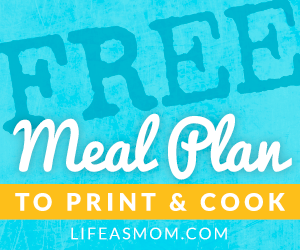 Here are the recipes featured in this week's meal plan to print and cook. You'll need to print each one out as well as print the meal plan and grocery list. After that, you're good to go.
Appetizers
Main Meal
Desserts
Looking for a different kind of meal plan? Head here for more meal plans to choose from.
Want to learn how to make your own meal plans? Take Meal Planning 101.