Looking for some easy meals you can whip up this week? We've gotcha covered with turkey pot pie, bacon and broccoli egg bake, cheddar soup, tortellini soup, and homemade pizza.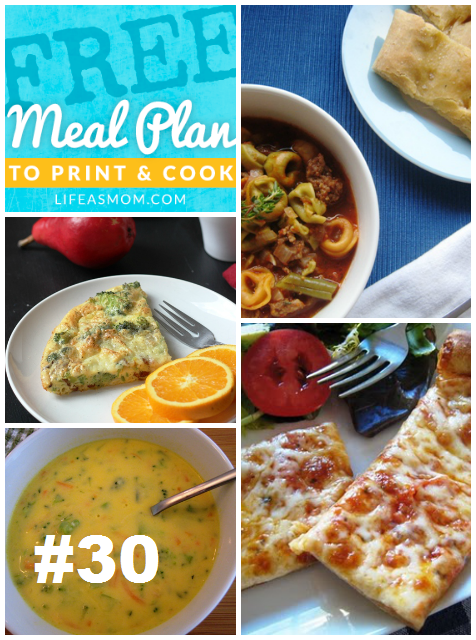 This promises to be a busy week for many of us. Either you're hitting the road to visit family or friends or hunkering down at home to maybe cook up some turkey and mashed potatoes.
I personally am all over the mashed potatoes. Yum! I also have a freezer full of bread crusts leftover from my kids' tea sandwiches that they've been making lately. I might as well make some stuffing while I'm at it.
But, then, of course, there are turkey leftovers which are mighty fine worked into other meals. This week's meal plan makes use of turkey leftovers for a yummy and easy pot pie, but the plan works any old time. There's lots of variety in the plan so that you won't get bored.
This week's meal plan is ready to go. It features turkey pot pie (a great way to use Thanksgiving leftovers), two soups, an egg bake, and homemade pizza.
Printable meal plans
Did you know that there are now 30 FREE printable meal plans plus a printable school lunch plan archived here at Life as MOM? Check them out and download a few so you can work your way to great food and peaceful evenings.
Each meal plan is designed to be kid- and budget-friendly, as well as be doable for novices as well as experienced cooks. And, of course each includes a shopping list and some make-ahead tips to make your week even easier.
Check out the meal plan archives if you haven't already.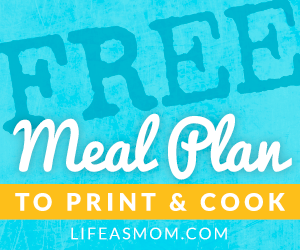 Here are the recipes featured in this week's meal plan to print and cook. You'll need to print each one out as well as print the meal plan and grocery list. After that, you're good to go. Meal:
Looking for a different kind of meal plan? Head here for more meal plans to choose from.
Want to learn how to make your own meal plans? Take Meal Planning 101.