Looking for some easy meals you can whip up this week? We've gotcha covered with BBQ beef sandwiches, beef taquitos, beans & rice, chicken noodle soup, and potstickers with dipping sauce.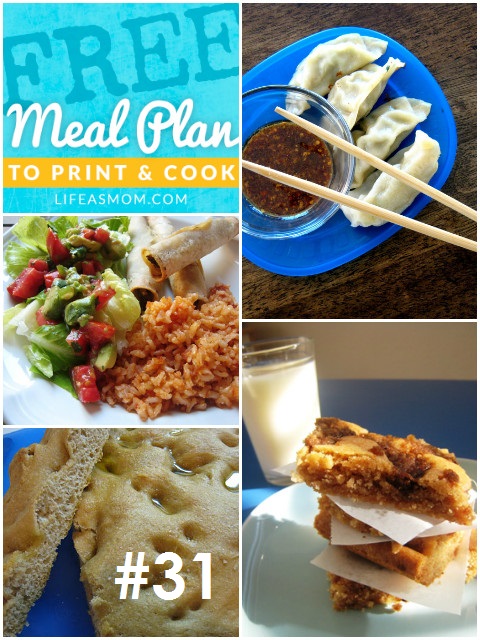 December is upon us! I'm not quite sure how that happened. Seems like December was just here. Regardless, it's here again. In our neighborhood there's been chill and rain. Certainly not what y'all experience elsewhere, but enough to tell us that winter is here. (Our energy bills have increased by about 25% this fall, so even though it might not get as cold we're running our heat not at all so that means it's colder in the house. I set the thermostat to 62 and so far it hasn't kicked on, but I'm not a fan of temps that hover at 63.
Anyway, this week's meal plan is full of yummy things to warm the bones and suit the seasonal budget. You should be able to find a reasonable price on chuck roast these days. Make a big batch of Shredded Beef for taquitos as well as BBQ sandwiches. I also fold it into tamales or enchiladas this time of year. So, if you have extra, save it for those items.
This week's meal plan is easy peasy with great tasting, budget-friendly, kid-approved suppers.
Printable meal plans
Did you know that there are now over 30 FREE printable meal plans plus a printable school lunch plan archived here at Life as MOM? Check them out and download a few so you can work your way to great food and peaceful evenings. Plus, stay tuned for several Christmas meal plans to make your holiday merry and bright.
Each meal plan is designed to be kid- and budget-friendly, as well as be doable for novices as well as experienced cooks. And, of course each includes a shopping list and some make-ahead tips to make your week even easier.
Check out the meal plan archives if you haven't already.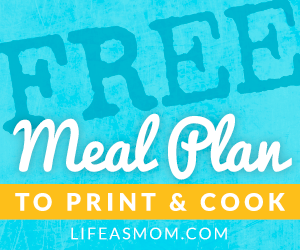 Here are the recipes featured in this week's meal plan to print and cook. You'll need to print each one out as well as print the meal plan and grocery list. After that, you're good to go.
Looking for a different kind of meal plan? Head here for more meal plans to choose from.
Want to learn how to make your own meal plans? Take Meal Planning 101.