Looking for some easy meals you can whip up this week? We've gotcha covered with meals featuring pantry staples — beans & rice, stone soup, pasta with red sauce, versatile rice bowls, and pancakes.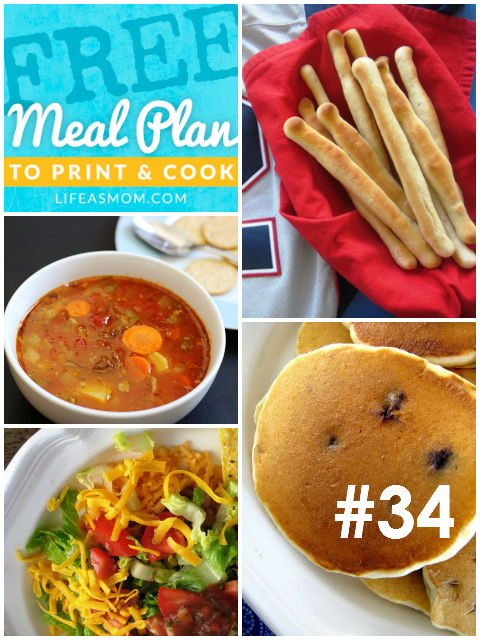 Over on Good Cheap Eats I'm leading the Pantry Challenge brigade. Many families are banding together to use up what they have in these first two weeks of January in order to save money, rotate stock, and practice some good old fashioned "make-do" tactics.
It seemed only appropriate then that this week's meal plan feature pantry staple ingredients. If you've got what I consider basic whole ingredients on hand like beans, rice, eggs, flour, pasta, and some meat and veg, then you're good to go. These recipes are on the flexible side allowing you to mix and match or substitute whatever "randomness" you have in the freezer or fridge.
All are easy to prep and kid-friendly.
Printable meal plans
Did you know that there are now over 30 FREE printable meal plans plus a printable school lunch plan archived here at Life as MOM? Check them out and download a few so you can work your way to great food and peaceful evenings.
Each meal plan is designed to be kid- and budget-friendly, as well as be doable for novices as well as experienced cooks. And, of course each includes a shopping list and some make-ahead tips to make your week even easier.
Check out the meal plan archives if you haven't already.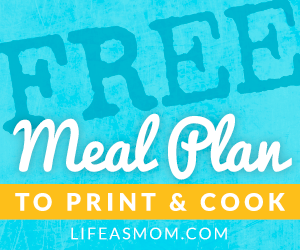 (update graphic with new link and alt text0
Here are the recipes featured in this week's meal plan to print and cook. You'll need to print each one out as well as print the meal plan and grocery list. After that, you're good to go.
(update button with correct link)
Looking for a different kind of meal plan? Head here for more meal plans to choose from.
Want to learn how to make your own meal plans? Take Meal Planning 101.