Looking for some easy meals you can whip up this week? We've gotcha covered with beef ragu, burritos, enchiladas, burgers, and pizza.
Don't you just love it when your kids get excited about what's for dinner? It doesn't always happen around here, but when it does, I'm pleased as punch, whatever that means. Historically, my kids hum while they eat, when it's a dinner they like. If everyone is humming, I know that was a homerun.
This week's meal plan is full of hum-worthy recipes. All of them are things that my people gobble down. Some of the kids aren't super crazy about the tomatoes on the pizza, but it's a parent favorite around here, so at least we're humming!
(There's a note in the meal plan to help you plan for alternate toppings if classic cheese and tomato isn't a favorite choice at your house. However, I highly recommend you try it. It's pretty darn awesome.)
Printable meal plans
Did you know that there are now over 35 FREE printable meal plans plus a printable school lunch plan archived here at Life as MOM? Check them out and download a few so you can work your way to great food and peaceful evenings.
Each meal plan is designed to be kid- and budget-friendly, as well as be doable for novices as well as experienced cooks. And, of course each includes a shopping list and some make-ahead tips to make your week even easier.
Check out the meal plan archives if you haven't already.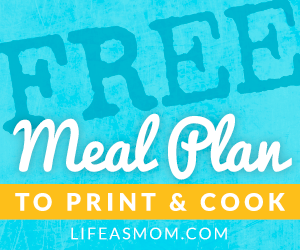 Here are the recipes featured in this week's meal plan to print and cook. You'll need to print each one out as well as print the meal plan and grocery list. After that, you're good to go.
Looking for a different kind of meal plan? Head here for more meal plans to choose from.
Want to learn how to make your own meal plans? Take Meal Planning 101.