Looking for some easy meals you can whip up this week? We've gotcha covered with brats, beef sandwiches, tostadas, broccoli & cheddar soup, and pancakes.
So, my poor Chargers will not be playing next weekend. Sigh. Next year perhaps. If you hadn't guessed, this week's meal plan is designed to be game-day friendly in addition to the typical kid and budget friendliness it typically exudes. Four out of five meals would be perfect for Sunday's game.
And, if you think about it, pancakes are good anytime, so let's count all five, shall we?
Be sure to check out my post on Good Cheap Eats about how to make meal plans happen. As in, "I have a meal plan, but I can't make it work." Ever been there? Hopefully, my tips will help demystify that a bit.
Printable meal plans
Did you know that there are now over 35 FREE printable meal plans plus a printable school lunch plan archived here at Life as MOM? Check them out and download a few so you can work your way to great food and peaceful evenings.
Each meal plan is designed to be kid- and budget-friendly, as well as be doable for novices as well as experienced cooks. And, of course each includes a shopping list and some make-ahead tips to make your week even easier.
Check out the meal plan archives if you haven't already.
Please leave your feedback in the comments or send me an email. We're in the process of redesigning the plans, so it would be great to get your thoughts on them.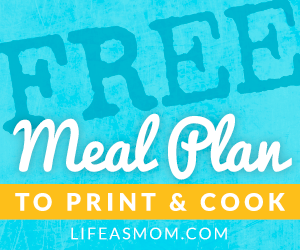 Here are the recipes featured in this week's meal plan to print and cook. You'll need to print each one out as well as print the meal plan and grocery list. After that, you're good to go.
Looking for a different kind of meal plan? Head here for more meal plans to choose from.
Want to learn how to make your own meal plans? Take Meal Planning 101.