Looking for some easy comforting meals you can whip up this week? We've gotcha covered with alfredo mac & cheese, chicken noodle soup, brie sandwiches, crispy chicken tenders, and oatmeal waffles.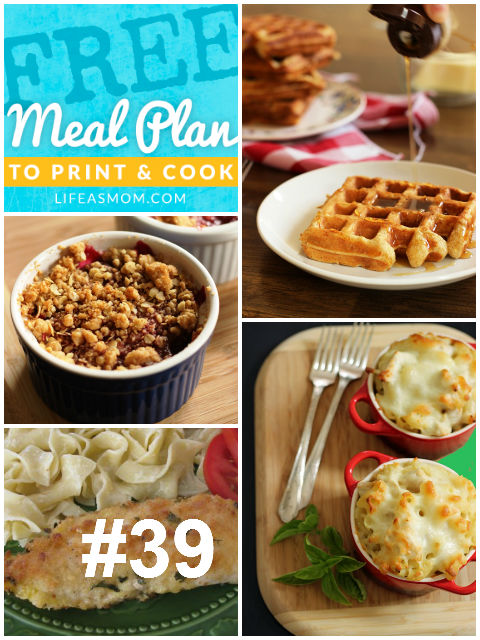 Whether it's bad weather, illness, or a no-good, terrible, very bad day, comfort food helps turns things around. Next to the Holy Spirit, I believe food is the great comforter. That's why God made it so good.
This week's meal plan features all kinds of comfort foods: fried chicken, mac and cheese, chicken noodle soup…. You name it, it's here. It's jam packed with all kinds of budget-friendly, kid-pleasing meals.
This is meal plan #39. There are so many great meal plans to choose from, but starting in March, with meal plan #41, we'll be offering something new. I'm really excited by all the behind-the-scenes tweaking we have planned. If you've got anything on your wish list, let us know in the comments!
Printable meal plans
Did you know that there are now nearly 40 FREE printable meal plans plus a printable school lunch plan archived here at Life as MOM? Check them out and download a few so you can work your way to great food and peaceful evenings.
Each meal plan is designed to be kid- and budget-friendly, as well as be doable for novices as well as experienced cooks. And, of course each includes a shopping list and some make-ahead tips to make your week even easier.
Check out the meal plan archives if you haven't already.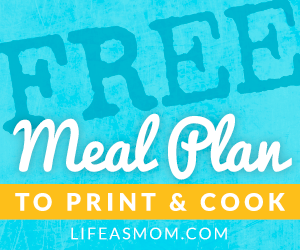 Here are the recipes featured in this week's meal plan to print and cook. You'll need to print each one out as well as print the meal plan and grocery list. After that, you're good to go.
Looking for a different kind of meal plan? Head here for more meal plans to choose from.
Want to learn how to make your own meal plans? Take Meal Planning 101.