The weekly ramble: where I blog like it's 2004.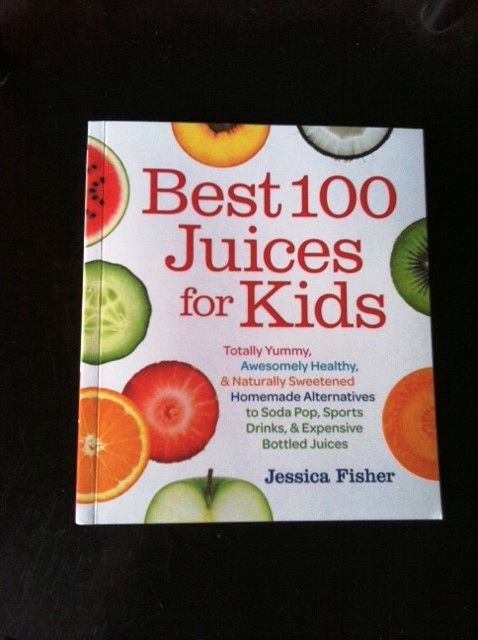 So, this was a fun surprise in my mailbox this week. I knew a handful of advance copies of my new book were being sent from overseas, but I didn't know I was going to get one. FishBoy11 read through it in a day. He said he was flattered.
I'm glad. That means that I didn't embarrass at least one of my children in my first book in which they play a starring role. I did let them preview a few select pages before it went to print just to be sure.
One of the best things about this book, Best 100 Juices for Kids, is that although my kids were not initially super keen on the idea of homemade juices that contained vegetables (!), they really got excited about the process. Now I'm get frequent requests to make juice, which makes this mama very happy.
You can preorder your copy from Amazon and get their lowest-price-between-now-and-release-date guarantee. The book is full color, chock full of pictures, and rife with recipes for homemade juices, smoothies, sparklies, sportsades, slushies, and ice pops that are sure to please everyone, not just kids.
In other news, we spent a pretty quite week on the home front, working on school stuff and chores and ballet and karate. Hockey for the other three kids starts next month which means life will pick up speed. I'm hoping that my plans to live life on purpose come to fruition so that I don't get checked by hockey season itself.
Meanwhile, here's what's been happening on Life as MOM:
Here's what's been happening on Good Cheap Eats:
Coming next week:
a Frozen-themed printable Valentine (you don't want to miss this!)
more DIY on a Dime Valentine ideas
A Soups and Stews Freezer Cooking Plan plus the Ultimate Freezer Cooking Post
5 (Cheap) Date Night Ideas
Be sure to let me know what stories and articles are helpful to you and what you'd like to see more of in the coming weeks. I want to make your "life as MOM" as fun and as easy as possible.